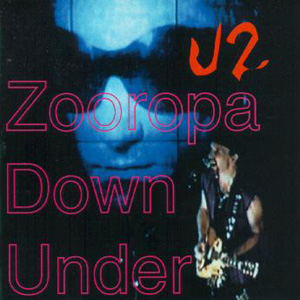 ZOOROPA DOWN UNDER 
Manufacturer: Kiss The Stone Records
Catalog: KTS 239/40
Matrix: Disc 1: KTS 239 PHC
        Disc 2: KTS 240 PHC
Barcode: 8 013780 012394
Disc 1: (66:30)
Disc 2: (60:41)
From: Stefan Barrett (Stefan.Barrett@bubbs.biola.edu)

Disc 1:
     1. Intro / Zoo Station
     2. The Fly
     3. Even Better Than The Real Thing
     4. Mysterious Ways
     5. One / Unchained Melody
     6. Until The End Of The World
     7. New Year's Day
     8. Numb
     9. Trying To Throw Your Arms Around The World
    10. Angel Of Harlem
    11. Stay (Faraway, So Close!)
    12. Satellite Of Love

Disc 2:
     1. Dirty Day
     2. Bullet The Blue Sky
     3. Running To Stand Still
     4. Where The Streets Have No Name
     5. Pride (In The Name Of Love)
     6. Daddy's Gonna Pay For Your Crashed Car
     7. Lemon / With Or Without You
     8. Love Is Blindness
     9. I Can't Help Falling In Love

Source:
     November 27, 1993.  Sydney, Australia.  Football Stadium.

Sound Quality:
     Very good soundboard.  Some others have said that there is something
     "muddy" about the sound which made them wonder what the heck they were
      they doing when they recorded this?

Comments:
     Exactly the same as Backstage's ZOOMERANG DOWN UNDER, but without the
     video confessionals and some of Bono's speech before encore.  A great
     show, but listen to it first to make sure you like the sound.  "Lemon", 
     "Dirty Day", "Daddy's Gonna Pay For Your Crashed Car" all incredible,
     as has been stated previously.  This concert is pretty much a standard 
     ZOO TV set.  It is also the same concert which can be found on video as
     'ZOO  TV: Live in Sydney'.  What is interesting about this recording is
     that although it is the same show as the video, the CD has not been
     edited between songs and contains the ZOO TV video confessionals. 
     Content-wise, these CDs are the same as the pay-per-view special, which
     was broadcast live (via a tape-delay).  However, this recording does not
     contain the two "skips"' as the pay-per-view broadcast and it is all in
     stereo unlike the pay-per-view (which was in mono for the first 30
     minutes).  This CD set was listed with two very polarized comments as to
     the nature of the CD.  I was hence apprehensive in buying it, but I did
     anyway (directly from KTS, incidentally), and thought I would throw in my
     two cents worth.  This is an excellent recording.  This is the concert in
     its entirety, including the Zoo Confessionals, MacPhisto's comments, 
     Bono's comments (in their entirety) after "The Fly", as well as the 
     inclusion of "Trying To Throw Your Arms Around The World".   I have the
     video "Zoo TV Live From Sydney" for comparison, on audio tape as well, 
     and I am certain that this CD is the whole concert.  The clarity of the 
     recording is excellent, with crisp distinction within the songs (drums, 
     vocals, guitars, synthesizer/sequencer parts).  The audience can be heard
     (clapping, cheering, etc.), but you cannot hear individuals talking with
     eachother.  The only noticeable drawbacks are that the bass level is
     fairly low, and there is an error during Edge's second guitar solo on
     "Mysterious Ways" (the rift repeats an extra time, and then Bono's entry
     is cut off as though it were a "skip").  Otherwise, the album sounds
     flawless to me.
     This is the original pressing on this label.