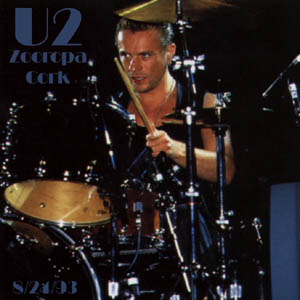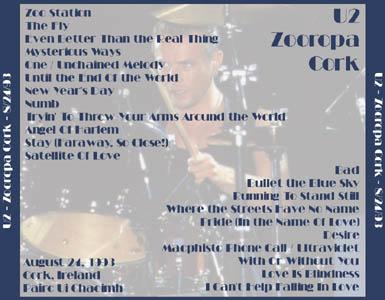 ZOOROPA CORK

Disc 1: 
     1. Zoo Station 
     2. The Fly 
     3. Even Better Than the Real Thing 
     4. Mysterious Ways 
     5. One / Unchained Melody 
     6. Until the End Of the World 
     7. New Year's Day 
     8. Numb 
     9. Tryin' To Throw Your Arms Around the World 
    10. Angel Of Harlem 
    11. Stay (Faraway, So Close!) 
    12. Satellite Of Love 

Disc 2: 
     1. Bad 
     2. Bullet the Blue Sky 
     3. Running To Stand Still 
     4. Where the Streets Have No Name 
     5. Pride (In the Name Of Love) 
     6. Desire 
     7. Macphisto Phone Call / Ultraviolet
     8. With Or Without You 
     9. Love Is Blindness 
    10. I Can't Help Falling In Love

Source :
     August 24, 1993.  Cork, Ireland.  Pairc Ui Chaoimh.

Sound Quality :
     Fair audience. 

Comments:
     The sound volume fluctuates throughout the entire show and
     there is a warping sound starting towards the end of the first
     disc and continuing throughout the end of the show. One strange
     thing about this boot is "Tryin' To Throw Your Arms Around The World"
     According to "U2 Live: A Concert Documentary", this song was not
     played this night.  However, during Bono's channel flipping, he
     mentions this is "opening night in Cork" and then says "what else
     do you have to do on a Tuesday night".  The Macphisto phone call
     also matches "U2 Live".  Either "U2 Live" is incorrect or someone
     edited in "Tryin' To Throw" from another source.