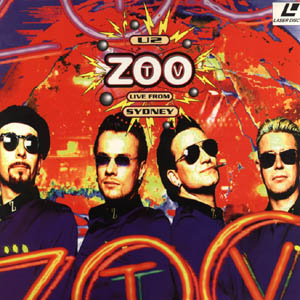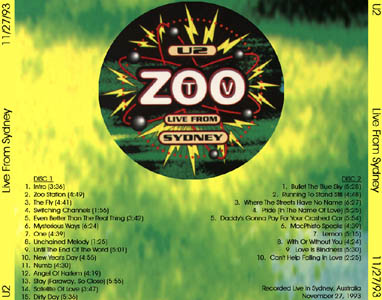 ZOO TV LIVE FROM SYDNEY
Disc 1: (65:15)
Disc 2: (50:15)

Disc 1:
     1. Intro
     2. Zoo Station
     3. The Fly
     4. Switching Channels
     5. Even Better Than The Real Thing
     6. Mysterious Ways
     7. One
     8. Unchained Melody
     9. Until The End Of The World
    10. New Year's Day
    11. Numb
    12. Angel Of Harlem
    13. Stay (Faraway, So Close!)
    14. Satellite Of Love
    15. Dirty Day

Disc 2:
     1. Bullet The Blue Sky
     2. Running To Stand Still
     3. Where The Streets Have No Name
     4. Pride (In The Name Of Love)
     5. Daddy's Gonna Pay For Your Crashed Car
     6. MacPhisto Speaks
     7. Lemon
     8. With Or Without You
     9. Love Is Blindness
    10. Can't Help Falling In Love

Source:
     November 27, 1993.  Sydney, Australia.  Football Stadium.

Sound Quality:
     Excellent soundboard taken directly from the Laserdisc.

Comments:
     Although this recording does not contain the video confessionals
     and Trying To Throw Your Arms Around The World, it is still by far
     a much better recording than Zooropa Down Under.  It is also tracked
     much better than Zooropa Down Under.