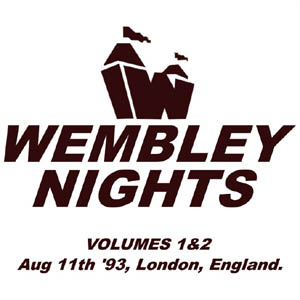 WEMBLEY NIGHTS VOL. 1 & 2
Manufacturer: Unknown
Catalog: None
Matrix: None
Barcode: None
Disc 1: (71:44)
Disc 2: (60:02)
From: Francesco Donadel (donadelg@intercity.shiny.it)

Disc 1:
     1. Intro 
     2. Zoo Station
     3. The Fly
     4. Even Better Than The Real Thing
     5. Mysterious Ways
     6. One
     7. Unchained Melody
     8. Until The End Of The World
     9. New Year's Day
    10. Numb
    11. Zooropa
    12. Babyface
    13. Stay (Faraway, So Close!)
    14. Satellite Of Love
    15. Sarajevo link

Disc 2:
     1. Bad
     2. Bullet The Blue Sky
     3. Running To Stand Still
     4. Where The Streets Have No Name
     5. Pride (In The Name Of Love)
     6. Zoo TV confessionals
     7. Desire
     8. Phone call with Salman Rushdie
     9. Ultraviolet (Light My Way)
    10. Love Is Blindness
    11. Can't Help Falling In Love

Source: 
     August 11, 1993.  London, England.  Wembley Stadium.

Sound Quality: 
     Excellent audience. Might be the best audience recording I've ever heard!  

Comments: 
     Excellent recording, maybe the best I've ever heard!  This is fantastic
     bootleg recorded digitally with a DAT recorder and a very good 
     microphone. This the first show in London which contains "Zooropa" and
     "Babyface" (which is played for the first time ever).  It should be 
     remastered because of the high-dynamic and the strong presence of 
     bassses and high tones which causes a boring hiss.  It is still very
     good, sometimes sounding just like a soundboard recording!  Also, the
     audience noise is perfect!  Get a copy of this!  This is a VERY limited
     edition of only 30 copies, I believe.  Sometimes it is sold in a deluxe
     8-CD wooden box (along with WEMBLEY NIGHTS VOL. 3 & 4, WEMBLEY NIGHTS
     VOL. 5 & 6, and WEMBLEY NIGHTS VOL. 7 & 8).  
     This is the original pressing on this label.