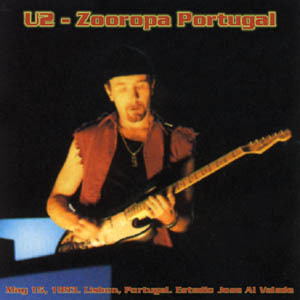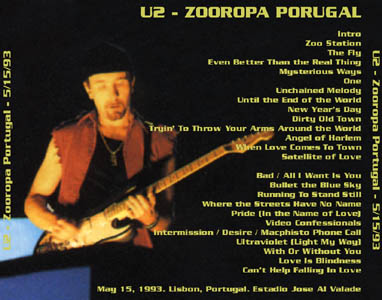 ZOOROPA PORTUGAL

Disc 1: 
     1. Intro 
     2. Zoo Station 
     3. The Fly 
     4. Even Better Than the Real Thing 
     5. Mysterious Ways 
     6. One 
     7. Unchained Melody 
     8. Until the End of the World 
     9. New Year's Day 
    10. Dirty Old Town 
    11. Tryin' To Throw Your Arms Around the World 
    12. Angel of Harlem 
    13. When Love Comes To Town 
    14. Satellite of Love 

Disc 2: 
     1. Bad / All I Want Is You 
     2. Bullet the Blue Sky 
     3. Running To Stand Still 
     4. Where the Streets Have No Name 
     5. Pride (In the Name of Love) 
     6. Video Confessionals 
     7. Intermission / Desire / Macphisto Phone Call 
     8. Ultraviolet (Light My Way) 
     9. With Or Without You 
     10. Love Is Blindness 
     11. Can't Help Falling In Love 

Source:
     May 15, 1993. Lisbon, Portugal. Estadio Jose Al Valade.

Sound Quality:
     Fair audience.

Comments:
     This show could easily be called "Bono and the Bad Bootlegger" as the person
     taping this really didn't seem to care about the quality of the recording. You
     can hear the taper and his friends quite clearly throughout the entire show
     (especially during their "solos" during One).  If you weren't at this show,
     I'd definately recommend passing on this recording.