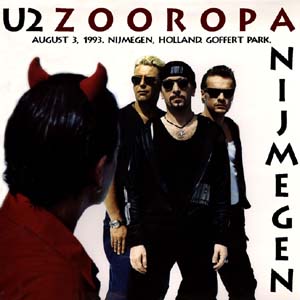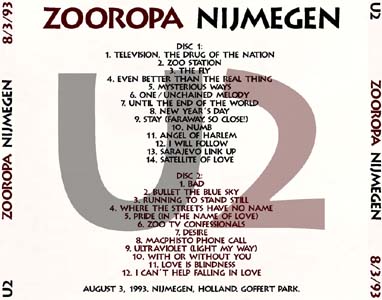 ZOOROPA NIJMEGEN
Manufacturer: Unknown
Catalog: None
Matrix: None
Barcode: None

Disc 1: 
     1. Television, the Drug Of the Nation 
     2. Zoo Station 
     3. The Fly 
     4. Even Better Than the Real Thing 
     5. Mysterious Ways 
     6. One / Unchained Melody 
     7. Until the End Of the World 
     8. New Year's Day 
     9. Stay (Faraway, So Close!)
    10. Numb
    11. Angel Of Harlem
    12. I Will Follow
    13. Sarajevo Link Up
    14. Satellite Of Love 

Disc 2: 
     1. Bad
     2. Bullet The Blue Sky
     3. Running To Stand Still
     4. Where The Streets Have No Name
     5. Pride (In The Name Of Love)
     6. Zoo TV Confessionals
     7. Desire
     8. MacPhisto Phone Call
     9. Ultraviolet (Light My Way)
    10. With Or Without You
    11. Love Is Blindness
    12. I Can't Help Falling In Love

Source:
     August 3, 1993. Nijmegen, Holland. Goffert Park.

Sound Quality:
     Very good audience.  The base is a little heavy at times but
     other than that, its very listenable.