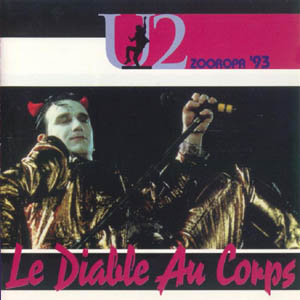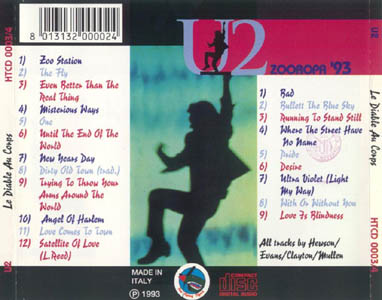 LE DIABLE AU CORPS
Manufacturer: The Flying Tigers
Catalog: HTCD 0003/4
Matrix: Disc 1: HTCD 0003 PHC
        Disc 2: HTCD 0004 PHC
Barcode: 8 013132 000024
Disc 1: (  :  )
Disc 2: (  :  )
From: (ehasal@ucla.edu)

Disc 1:
     1. Zoo Station
     2. The Fly
     3. Even Better Than The Real Thing
     4. Mysterious Ways
     5. One/Unchained Melody
     6. Until The End Of The World
     7. New Year's Day
     8. Wild Rover
     9. Trying To Throw Your Arms Around The World
    10. Angel Of Harlem
    11. When Love Comes To Town
    12. Satellite Of Love

Disc 2:
     1. Bad
     2. Bullet The Blue Sky
     3. Running To Stand Still
     4. Where The Streets Have No Name
     5. Pride (In The Name Of Love)
     6. Desire
     7. Ultraviolet (Light My Way)
     8. With Or Without You
     9. Love Is Blindness

Source:
     June 26, 1993.  Paris, France.  Hippodrome De Vincennes.

Sound Quality:
     This recording is a very good audience.

Comments:
     Track 8 is mislabeled on sleeve as "Dirty Old Town".  Track 9 is
     mislabeled as "All I Want is You".  There is crowd noise evident
     throughout, such as audible clapping and talking, but the worst of it is
     heard during the breaks between songs.  I would guess the person who
     taped this was near the front speakers because the music itself is
     recorded quite well.  That is what makes it listenable, in spite of the
     crowd interference.  In fact, I listen to this disc on my car stereo,
     which I can't say about most other bootlegs I have.  All instruments and
     sound ranges are well-represented.  The bass, which in my experience is
     usually muted or hard to distinguish, is clear and rich on this
     recording.  The intro to "Zoo Station" is cut, so the song starts with
     Edge's opening riffs.  Also cut are Mac Phisto's speeches and phone
     call.  This is a fairly basic show in terms of the Zooropa Tour.  The
     setlist is the usual, but the band is "on" and I would say it is a good
     performance.  This would be a good candidate for a new collector looking
     for a representative show that sounds pretty good.  I think it is worth
     it just to hear Bono have fun with the French language.  Can you say
     "mangle"?
     This is the original pressing on this label.