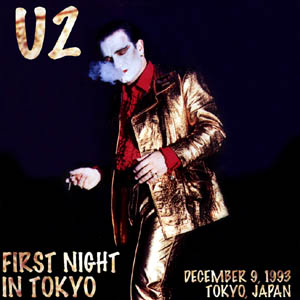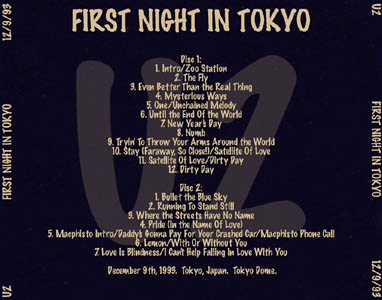 FIRST NIGHT IN TOKYO

Disc 1: 
     1. Intro/Zoo Station 
     2. The Fly 
     3. Even Better Than the Real Thing 
     4. Mysterious Ways 
     5. One/Unchained Melody 
     6. Until the End Of the World 
     7. New Year's Day 
     8. Numb 
     9. Tryin' To Throw Your Arms Around the World 
    10. Stay (Faraway, So Close!)/Satellite Of Love 
    11. Satellite Of Love/Dirty Day 
    12. Dirty Day 

Disc 2: 
     1. Bullet the Blue Sky 
     2. Running To Stand Still 
     3. Where the Streets Have No Name 
     4. Pride (In the Name Of Love) 
     5. Macphisto Intro/Daddy's Gonna Pay For Your Crashed Car/Macphisto Phone Call 
     6. Lemon/With Or Without You 
     7. Love Is Blindness/I Can't Help Falling In Love With You 

Source: 
     December 9th, 1993.  Tokyo, Japan.  Tokyo Dome.

Sound Quality:
     Excellent audience.

Comments:
     The end of Disc 1 is a mess, with "Satellite Of Love" being wrapped between 
     Tracks 10 and 11.  Dirty Day suffers a similar fate between Tracks 11 and 12.  
     Whoever transferred this show to CD must not have been paying much attention...
     Regardless, none of this really matters if you listen to the show in its entirety.  
     The transition between tracks is smooth (NO two seconds gaps, of course), so you 
     won't even notice these flaws unless you skip directly to Disc 1, Tracks 10, 11, or 12.