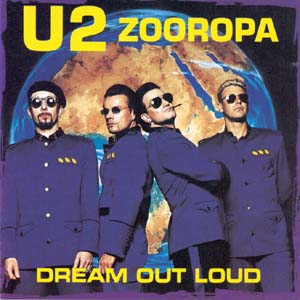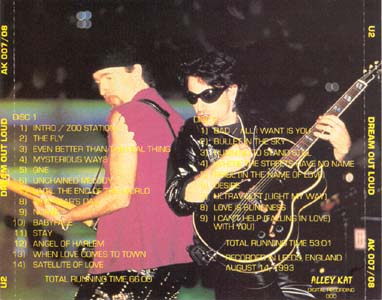 DREAM OUT LOUD
Manufacturer: Alley Kat
Catalog: AK 007/08
Matrix: Disc 1: AK 007 PHC
        Disc 2: AK 008 PHC
Barcode: None
Disc 1: (66:00) 
Disc 2: (53:01) 
From: Joseph P. Genovese (joeg11@ix.netcom.com)

Disc 1:
     1. Zoo Station (includes Intro)
     2. The Fly
     3. Even Better Than The Real Thing
     4. Mysterious Ways
     5. One
     6. Unchained Melody
     7. Until The End Of The World
     8. New Year's Day
     9. Numb
    10. Babyface
    11. Stay
    12. Angel Of Harlem
    13. When Love Comes To Town
    14. Satellite Of Love

Disc 2:
     1. Bad (includes All I Want Is You)
     2. Bullet The Blue Sky
     3. Running To Stand Still
     4. Where The Streets Have No Name
     5. Pride (In The Name Of Love)
     6. Desire
     7. Ultraviolet (Light My Way)
     8. Love Is Blindness
     9. Can't Help Falling In Love 

Source:
     August 14, 1993.  Leeds, England.  Roundhay Park.

Sound Quality:
     Very good audience.

Comments:
     A good show, but if you have other Zooropa dates, you need not apply.
     The best things about this disc are the acoustic versions of "Angel of
     Harlem" and "When Love Comes To Town".  It says that it's a digital 
     recording but that would just imply that it came from a digital audience
     tape (DAT).
     This is the original pressing on this label.