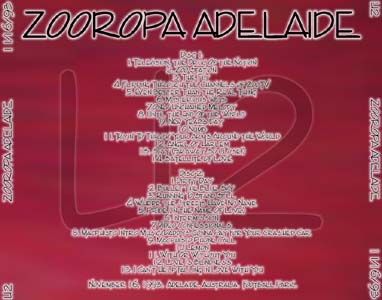 ZOOROPA ADELAIDE
Manufacturer: Unknown
Catalog: None
Matrix: None
Barcode: None

Disc 1: 
     1. Television, the Drug Of the Nation 
     2. Zoo Station 
     3. The Fly 
     4. Flipping Through the Channels of ZooTV 
     5. Even Better Than the Real Thing 
     6. Mysterious Ways 
     7. One/ Unchained Melody 
     8. Until the End Of the World 
     9. New Year's Day 
    10. Numb 
    11. Tryin' To Throw Your Arms Around the World 
    12. Angel Of Harlem 
    13. Stay (Faraway, So Close!) 
    14. Satellite Of Love 

Disc 2: 
     1. Dirty Day 
     2. Bullet the Blue Sky 
     3. Running To Stand Still 
     4. Where the Streets Have No Name 
     5. Pride (In the Name Of Love) 
     6. Intermission 
     7. Video Confessionals 
     8. Macphisto Intro Music/Daddy's Gonna Pay For Your Crashed Car 
     9. Macphisto Phone Call 
    10. Lemon 
    11. With Or Without You 
    12. Love Is Blindness 
    13. I Can't Help Falling In Love With You 

Source:
     November 16, 1993.  Adelaide, Australia.  Football Park.

Sound Quality:
     Very good soundboard.

Comments:
     This is a good companion to the Sydney 1993 soundboard show.  The
     previously-released ZOOMERANG IN ADELAIDE set cut the encore.  This show
     seemed a bit more honest and less 'planned' than Sydney.  The phone call
     was never explained properly.  The person whom Bono called was an
     ex-soccer coach named Graham Cornes (who is now a television
     commentator).  Cornes had just married a 17 year-old girl and had gotten
     her pregnant - mind you this is when Cornes was about 46 years old!
     That's why Bono was saying that he knew Cornes could help him out with
     the "young girlies."  I doubt that this adds to the show, but it does
     make the whole thing a bit funnier.