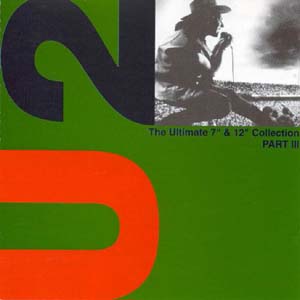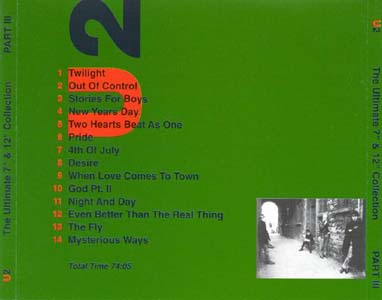 ULTIMATE 7" & 12" COLLECTION PART III, THE
Manufacturer: Unknown
Catalog: BON 003
Matrix: BON003
Barcode: None
Complete Show: NA
Format: 1-CD
Released: Unknown
(73:56)

     1. Twilight
     2. Out Of Control
     3. Stories For Boys
     4. New Year's Day (US Remix)
     5. Two Hearts Beat As One (US Club Mix)
     6. Pride (In The Name Of Love)
     7. 4th Of July
     8. Desire (Hollywood Remix)
     9. When Love Comes To Town (Live From The Kingdom Club Mix)
    10. God Pt. II (Hard Metal Dance Mix)
    11. Night And Day (Steel String Mix)
    12. Even Better Than The Real Thing (Sexy Dub Mix)
    13. The Fly (The Lounge Fly Mix)
    14. Mysterious Ways (Solar Plexus Mix)

Source:
     Official CBS-Ireland and Island Records official 7" and 12" vinyl and
     Island Records 5" Maxi-CD singles.

Sound Quality:
     Excellent studio.  Some of the vinyl sources, however, were in somewhat
     poor condition, resulting in numerous pops and ticks as well as static.

Comments:
     Deluxe color cover.  Picture CD.  Additional comments and info needed on
     this bootleg.
     This is the original pressing on this label.