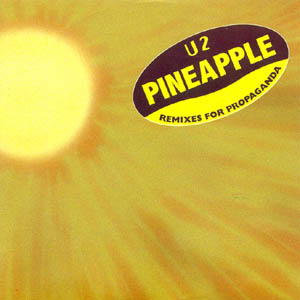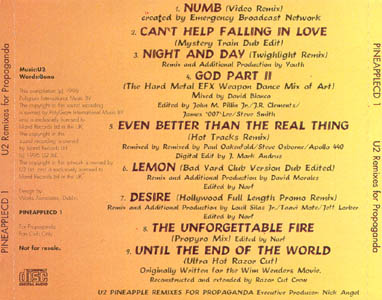 PINEAPPLE REMIXES FOR PROPAGANDA
Manufacturer: Unknown
Catalog: PINEAPPLECD1
Matrix: PINEAPPLECD 1
Barcode: None
(70:45)
From: Mikael Ahlfors (mcahlfor@cc.helsinki.fi)

     1. Numb (Video Remix) [4:53]
     2. Can't Help Falling In Love (Mystery Train Dub Edit) [4:53]
     3. Night And Day (Twilight Remix) [5:27]
     4. God Part II (The Hard Metal EFX Weapon Dance Mix Of Art) [8:40]
     5. Even Better Than The Real Thing (Hot Tracks Remix) [6:43]
     6. Lemon (Bad Yard Club Version Dub Edited) [10:51]
     7. Desire (Hollywood Full Length Promo Remix) [12:42]
     8. The Unforgettable Fire (Propyro Mix) [6:28]
     9. Until The End Of The World (Ultra Hot Razor Cut) [10:08]

Source: 
     (1) "Numb" video single.
     (2) "Salome" promo 12" single. 
     (3) "Night And Day" promo 12" single.
     (4, 5, 7, 8, 9) Various DJ and unknown sources. 
     (6) "Lemon" US 12" single.

Sound Quality:
     Excellent studio.

Comments:
     Most of these are not official remixes and some, I highly doubt, 
     actually exist.  This boot is similar to THE REMIXES (FOR DJ PROMO ONLY)
     and also any of the various "REMIXES FOR PROPAGANDA" CDs, which are all,
     indeed, BOOTLEGS.  The front cover features a picture of a pineapple, 
     and the a fake "MELON-type" logo saying "PINEAPPLE - REMIXES FOR      
     PROPAGANDA".  The back cover is printed in "MELON-style". Deluxe color
     cover.  Yellow pineapple picture CD.
     This is the original pressing on this label.