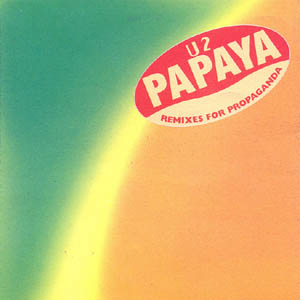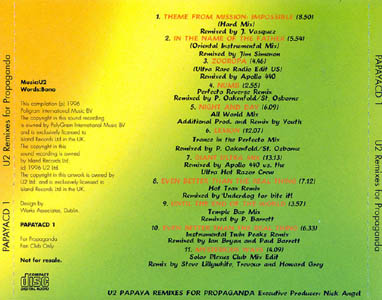 PAPAYA REMIXES FOR PROPAGANDA
Manufacturer: Unknown
Catalog: PAPAYACD 1
Matrix: PAPAYACD1
Barcode Number: None
Complete Show: NA
Format: 1-CD
Released: Unknown
(75:48)
From: Hammer (Hammer@compusmart.ab.ca)

     1. Theme From Mission: Impossible (Hard Mix) [8:50]
     2. In The Name Of The Father (Oriental Instrumental Mix) [5:54]
     3. Zooropa (US Radio Edit) [4:46]
     4. Numb (Perfecto Reverse Remix) [2.55]
     5. Night And Day (All World Mix) [6:09]
     6. Lemon (Trance In The Perfecto Mix) [12:07]
     7. Giant Ultra Mix [13:13]
     8. Even Better Than The Real Thing (Hot Trax Remix) [7:12]
     9. Until The End Of The World (Temple Bar Mix) [3:57]
    10. Even Better Than The Real Thing (Instrumental Twin Peaks Remix) [6:33]
    11. Mysterious Ways (Solar Plexus Club Mix Edit) [4:09]

Source:
     Various videos, promos, singles, and homemade mixes.

Sound Quality:
     (1, 2, 4-11): Excellent studio.
     (3): Fair to poor studio.

Comments:
     Most of these are not even official remixes and some, I highly doubt,
     exist.  This boot is similar to THE REMIXES (FOR DJ PROMO ONLY) and also
     any of the various "REMIXES FOR PROPAGANDA" CDs, which are all, indeed,
     BOOTLEGS.  Deluxe color cover.  Picture CD. This is from a German
     manufacterer.  Overall it's a very good remix boot, better than some of
     the other fruits.
     This is the original pressing on this label.

     NOTE: In order for me to copy this CD, I must remove one track!