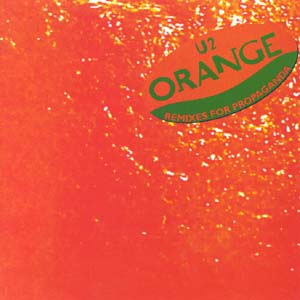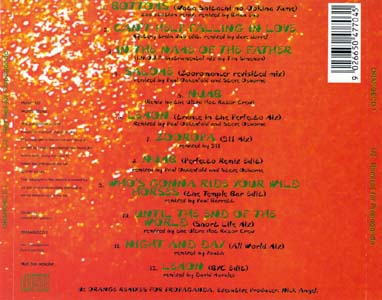 ORANGE REMIXES FOR PROPAGANDA
Manufacturer: Unknown
Catalog: ORANGECD1
Matrix: OG1 611044
Barcode: 9 026650 447045
(74:07)
From: Stijn Van Achter (Stijn.vanachter@student.kuleuven.ac.be)

     1. Bottoms (Watashitachi No Ookina Yume) (Zoo Station Remix) [4:13]
     2. Can't Help Falling In Love (Mystery Train Dub Edit) [4:52]
     3. In The Name of The Father (ITNOTF Instrumental Mix) [5:57]
     4. Salome (Zooromancer Revisited Mix) [10:01]
     5. Numb (Remix by Ultra Hot Razor Crew) [6:46]
     6. Lemon (Trance In The Perfecto Mix) [12:05]
     7. Zooropa (911 Mix) [8:02]
     8. Numb (Perfecto Remix Edit) [2:48]
     9. Who's Gonna Ride Your Wild Horses (Temple Bar Edit) [3:58]
    10. Until The End of The World (Short Life Mix) [3:56]
    11. Night and Day (All World Mix) [6:06]
    12. Lemon (BYC Edit) [5:20]

Source:
     (1): "Miss Sarajevo" UK CD single.
     (2, 4-8, 10, 11): Unknown or unofficial sources.
     (3): "In The Name Of The Father" CD Single.
     (9): "Who's Gonna Ride Your Wild Horses" CD Single.
     (12): Unknown.

Sound Quality:
     Excellent studio.  The recording level on Track 1 is too low.

Comments:
     Track 1 is remixed by Brian Eno.  Track 2 is remixed by Dave Dorrel.
     Track 3 is mixed by Tim Simenon.  Tracks 4, 6, and 8 are remixed by
     Paul Oakenfold and Steve Osborne.  Tracks 5 and 10 are remixed by "The
     Ultra Hot Razor Crew".  Track 7 is remixed by "911".  Track 9 is
     remixed by Paul Barrett.  Track 11 is remixed by Youth.  Track 12 is
     remixed by David Morales. This boot is similar to THE REMIXES (FOR DJ
     PROMO ONLY) and also any of the various "REMIXES FOR PROPAGANDA" CDs,
     which are all, indeed, BOOTLEGS. While there is some overlap among the
     discs, overall the series is a decent collection if you like to dance
     to U2.  Most of these tracks are not really official remixes and some,
     I highly doubt, exist.  This compilation is not too bad.  There are some
     keepers (Tracks 1 and 8, among others) but there are some real bombs on
     here too.  Track 2 is a decent remix, but the sound quality is 
     inconsistent with the rest of the disc; it appears to have been copied
     off an LP.  Some of the tracks are edits, thus only giving you some of
     the song.  Finally, the most embarrassing moment of this bootleg is
     Track 7.  The purpose of a remix is to offer a different interpretation
     of a song.  This mix is not only not a mix, but it makes the song
     unlistenable by taking parts of Edge's guitar licks from the front end
     of the song and repeating them over and over and over, and then moving
     on and repeating.  911, whover you are, you should not be allowed to 
     "remix" a song as good as "Zooropa" and get away with it!  This 
     compilation is not perfect, but it makes a good addition to the 
     superfan's collection.  The front cover features a picture of a yellow
     / green banana, and the back cover features a fake "MELON-type" logo 
     saying "ORANGE - REMIXES FOR PROPAGANDA".  The back cover is printed
     in "MELON-style". ".  Deluxe color cover.  Orange picture CD. 
     This is the original pressing on this label.