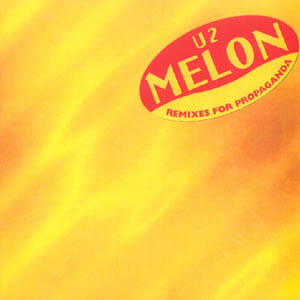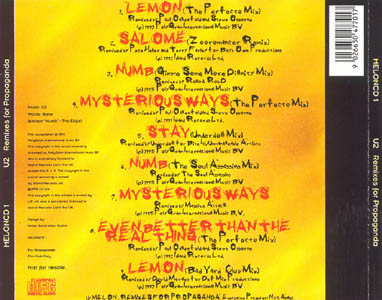 MELON REMIXES FOR PROPAGANDA 
Manufacturer: Street Records
Catalog: MELONCD1
Matrix: MELON1
Barcode: 00325656430745
(63:42)
From: J. Gareth Williams (jgwillia@novice.uwaterloo.ca)

     1. Lemon (The Perfecto Mix)
     2. Salome (Zooromancer Remix)
     3. Numb (Gimme Some More Dignity Mix)
     4. Mysterious Ways (The Perfecto Mix)
     5. Stay (Underdog Mix)
     6. Numb (The Soul Assassins Mix)
     7. Mysterious Ways (Remixed by Massive Attack)
     8. Even Better Than The Real Thing (The Perfecto Mix)
     9. Lemon (Bad Yard Club Mix)

Source:
     The 'Melon' CD, which was given away for free to Propaganda subscribers.

Sound Quality:
     Perfect studio.

Comments:
     It had to happen.  Here it is, the world's first bootlegged 'Melon'.  The
     packaging is simply a color photocopy of the official release, with
     publishing data conveniently obscured.  I haven't actually heard this
     CD; for all I know, it could contain just about anything, but if it
     looks like a duck... I'm sure this is but the first of numerous bootlegs
     of U2's generous Christmas gift to follow.  Incidentally, if you ever
     see 'Melon' advertised by CD distributors, chances are it's a bootleg,
     and not the real thing.  The original (official) 'Melon' CD came in a
     cardboard slipcase, not a standard jewel case, as is the case with this
     bootlegged 'Melon'.
     This is one of four of the original pressings on this label.