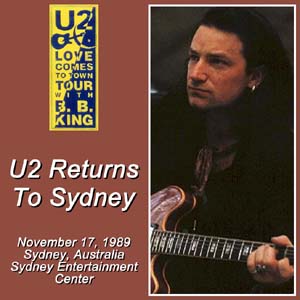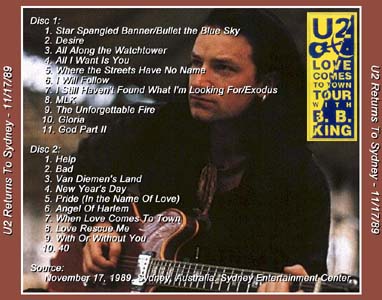 U2 RETURNS TO SYDNEY

Disc 1: 
     1. Star Spangled Banner/Bullet the Blue Sky 
     2. Desire 
     3. All Along the Watchtower 
     4. All I Want Is You 
     5. Where the Streets Have No Name 
     6. I Will Follow 
     7. I Still Haven't Found What I'm Looking For/Exodus 
     8. MLK 
     9. The Unforgettable Fire 
    10. Gloria 
    11. God Part II 

Disc 2: 
     1. Help 
     2. Bad 
     3. Van Diemen's Land 
     4. New Year's Day 
     5. Pride (In the Name Of Love) 
     6. Angel Of Harlem 
     7. When Love Comes To Town 
     8. Love Rescue Me 
     9. With Or Without You 
    10. 40 

Source:
     November 17, 1989. Sydney, Australia. Sydney Entertainment Center.

Sound Quality:
     Good audience.

Comments (by Justin Cook jmcook1@mediaone.net):
     This concert was transferred to CDR from a cassette original and
     a few hiccups are evident.  The sound is comparable to that of the
     Melbourne (10-16-89) show (perhaps a little clearer) as is the
     audience noise.  Again, a few conversations can be heard amongst the
     spectators, but they always stop once the music starts.  The sound
     maintains a constant level throughout the show and there are only a
     few very minor skips.  Includes a performance of "The Unforgettable Fire",
     a song rarely played on the Lovetown tour.  Again, an excellent acquisition
     for anyone trying to pick up bootlegs from the first leg of this tour.