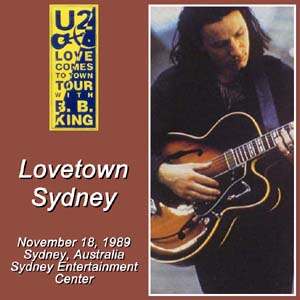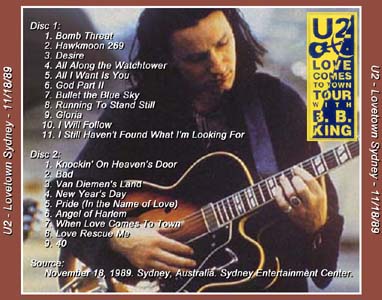 LOVETOWN SYDNEY

Disc 1: 
     1. Bomb Threat 
     2. Hawkmoon 269 
     3. Desire 
     4. All Along the Watchtower 
     5. All I Want Is You 
     6. God Part II 
     7. Bullet the Blue Sky 
     8. Running To Stand Still 
     9. Gloria 
    10. I Will Follow 
    11. I Still Haven't Found What I'm Looking For 

Disc 2: 
     1. Knockin' On Heaven's Door 
     2. Bad 
     3. Van Diemen's Land 
     4. New Year's Day 
     5. Pride (In the Name of Love) 
     6. Angel of Harlem 
     7. When Love Comes To Town 
     8. Love Rescue Me 
     9. 40 

Source:
     November 18, 1989. Sydney, Australia. Sydney Entertainment Center.

Sound Quality:
     Very good audience.

Comments (by Justin Cook jmcook1@mediaone.net):
     This is a very interesting concert if for no other reason
     than that the show was delayed for over an hour due to a bomb
     scare.  Unfortunately, the beginning of this recording suffers
     from a few problems as the person recording the shows gets his
     act together -- there is a little bit of soft static and rumbling
     (both intermittent) during the rare performance of "Hawkmoon 269".
     Afterwards, the recording quickly improves.  Crowd noise is not a
     factor and the sound is surprisingly clear for such a rare recording.