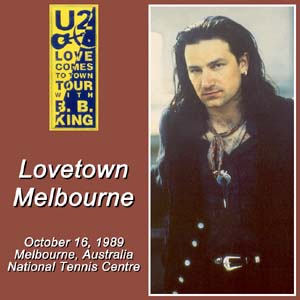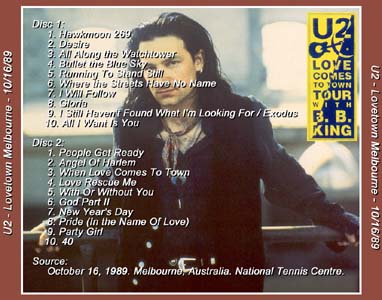 LOVETOWN MELBOURNE 7

Disc 1: 
     1. Hawkmoon 269 
     2. Desire 
     3. All Along the Watchtower 
     4. Bullet the Blue Sky 
     5. Running To Stand Still 
     6. Where the Streets Have No Name 
     7. I Will Follow 
     8. Gloria 
     9. I Still Haven't Found What I'm Looking For / Exodus 
    10. All I Want Is You 

Disc 2: 
     1. People Get Ready 
     2. Angel Of Harlem 
     3. When Love Comes To Town 
     4. Love Rescue Me 
     5. With Or Without You 
     6. God Part II 
     7. New Year's Day 
     8. Pride (In the Name Of Love) 
     9. Party Girl 
    10. 40 

Source:
     October 16, 1989. Melbourne, Australia. National Tennis Centre.

Sound Quality:
     Good audience
 
Comments (by Justin Cook jmcook1@mediaone.net):
     This show was originally recorded on cassette, so there are a recording
     problems every now and then as is to be expected.  However, the sound
     is pretty clear and the crowd, while a bit on the noisy side (especially
     between tracks), can only be heard in the background throughout most of
     the concert.  On a few occasions, someone close to the recorder gets a
     little rowdy, but this usually only happens in between songs -- once the
     group starts playing, people tend to shut up.  There is a pretty nasty
     skip 1:17 into "All I Want Is You" and at times the recording level fades
     a bit, but these are the only major blemishes.  If you have been searching
     for a decent live rendition of "Hawkmoon 269", look no further.  All in all,
     a pretty nice find for those of you looking for shows from the first leg of
     the Lovetown tour, all of which are quite difficult to locate on CD.