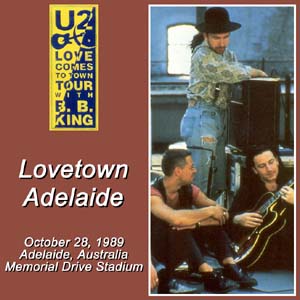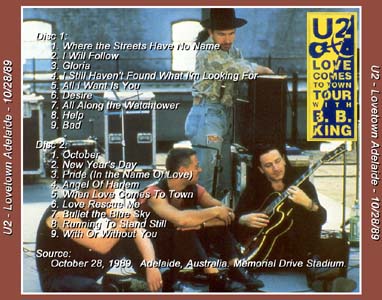 LOVETOWN ADELAIDE

Disc 1: 
     1. Where the Streets Have No Name 
     2. I Will Follow 
     3. Gloria 
     4. I Still Haven't Found What I'm Looking For 
     5. All I Want Is You 
     6. Desire 
     7. All Along the Watchtower 
     8. Help 
     9. Bad 

Disc 2: 
     1. October 
     2. New Year's Day 
     3. Pride (In the Name Of Love) 
     4. Angel Of Harlem 
     5. When Love Comes To Town 
     6. Love Rescue Me 
     7. Bullet the Blue Sky 
     8. Running To Stand Still 
     9. With Or Without You 

Source:
     October 28, 1989.  Adelaide, Australia. Memorial Drive Stadium.

Sound Quality: 
     Good audience.

Comments (by Justin Cook jmcook1@mediaone.net):
     Another concert from the first leg of the Lovetown tour that is
     virtually impossible to find on CD.  This concert was transferred
     to CDR from a cassette original. The sound is clear enough, although
     a slight hiss can be heard in the background.  The bass may be a bit
     high for some peoples' tastes, but that can easily be adjusted on your
     stereo.  Crowd noise is evident, but only between songs for the most
     part.  As is the case with nearly every concert that is not available
     on a "professional" bootleg, there are a few recording problems.  The
     person holding the recorder bumps it on a few occasions (resulting in a
     slight "thud") and there are a few minor skips.  There is, after all, a
     reason that these concerts haven't been released by "professional"
     bootleg makers.  Those of you who are willing to settle for something a
     little less than perfection will be pleased with this bootleg.