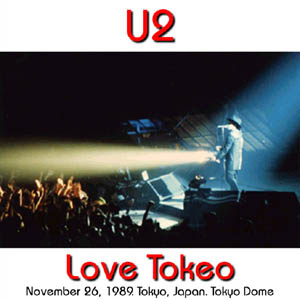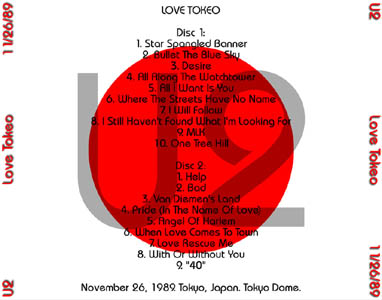 LOVE TOKEO

Disc 1:
     1. Star Spangled Banner
     2. Bullet The Blue Sky
     3. Desire
     4. All Along The Watchtower
     5. All I Want Is You
     6. Where The Streets Have No Name
     7. I Will Follow
     8. I Still Haven't Found What I'm Looking For
     9. MLK
    10. One Tree Hill

Disc 2:
     1. Help
     2. Bad
     3. Van Diemen's Land
     4. Pride (In The Name Of Love)
     5. Angel Of Harlem
     6. When Love Comes To Town
     7. Love Rescue Me
     8. With Or Without You
     9. "40"

Source:
     November 26, 1989. Tokyo, Japan. Tokyo Dome.

Sound Quality:
     Good soundboard.

Comments:
     This soundboard sounds a little muddy but all-in-all, its
     still a great rare recording.  There is also a short skip
     during All I Want Is You.