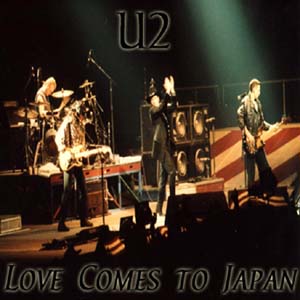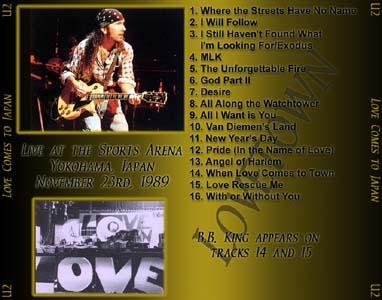 LOVE COMES TO JAPAN

     1. Where the Streets Have No Name 
     2. I Will Follow 
     3. I Still Haven't Found What I'm Looking For 
     4. MLK 
     5. The Unforgettable Fire 
     6. God Part II 
     7. Desire 
     8. All Along the Watchtower 
     9. All I Want Is You 
    10. Van Diemen's Land 
    11. New Year's Day 
    12. Pride (In the Name of Love) 
    13. Angel of Harlem 
    14. When Love Comes To Town 
    15. Love Rescue Me 
    16. With Or Without You 

Source:
     November 23, 1989. Yokohama, Japan. Sports Arena.

Sound Quality:
     Excellent audience.