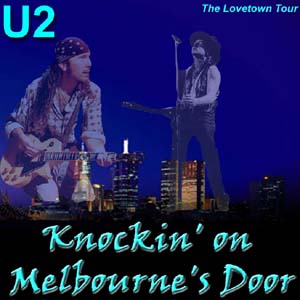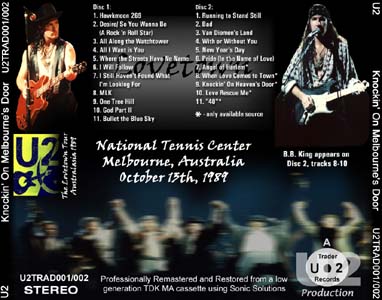 KNOCKIN' ON MELBOURNE'S DOOR

Disc 1: 
     1. Hawkmoon 269 
     2. Desire / So You Wanna Be (A Rock 'n Roll Star) 
     3. All Along the Watchtower 
     4. All I Want is You 
     5. Where the Streets Have No Name 
     6. I Will Follow 
     7. I Still Haven't Found What I'm Looking For 
     8. MLK 
     9. One Tree Hill 
    10. God Part II 
    11. Bullet the Blue Sky 

Disc 2
     1. Running To Stand Still 
     2. Van Diemen's Land 
     3. Bad 
     4. With Or Without You 
     5. New Year's Day 
     6. Pride (In the Name of Love) 
     7. Angel of Harlem 
     8. When Love Comes To Town 
     9. Knockin' On Heaven's Door 
    10. Love Rescue Me 
    11. "40"

Source:
     October 13, 1989. Melbourne, Australia. National Tennis Centre.

Sound Quality:
     Very good audience

Comments:
     This boot was remastered by Darren Glen.  Here are his comments:
     This show was transferred from a low generation TDK Metal tape...and is 
     the result of over two weeks of restoring/remastering. It is a far lower
     generation than the currently circulating version of this date. This show
     is a very good recording but suffered from the usual problems associated
     with many audience recordings...namely tape hiss, level inconsistencies
     and swaying or "panning" of the image from center. There is a skip in the
     middle of "All I Want is You" and "Running to Stand Still" has lost a few
     seconds from its start, both on the original master and probably due to a
     tape flip/change. Also various different parts of the original tape seemed
     to suffer from sound inconsistencies...ie some tracks sounded better than
     others. Firstly the hiss was fixed without any side effects by Sonic Solutions.
     Next it was given an overall EQ and De-essed. Individual tracks were then fixed
     for sound and level changes/differences , and the shows image was re-centered
     track-by track. The encore of this show seems to be from a different source
     recording as it was in MONO and sounded quite different. This portion was
     processed with the TC Electronics Stereo Spacialiser. This unit is the best
     of its kind for adding stereo realism to mono recordings as it does not just
     invert channel phases like most cheap processors which causes problems with mono
     compatibility. It re-creates a far more detailed image...(it is used on artists
     vocals such as Mariah Carey and Whitney Houston to enhance their sound.) Then
     this part of the show was re-balanced frequency wise to match the sound and
     acoustics of the rest of the show. Finally the show was maximized and dithered
     before its digital transfer to CDR.