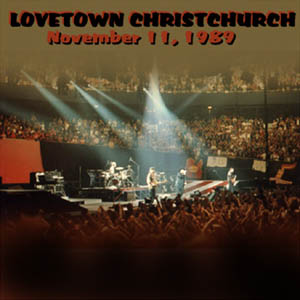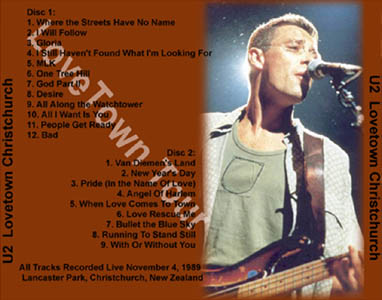 LOVETOWN CHRISTCHURCH

Disc 1: 
     1. Where the Streets Have No Name 
     2. I Will Follow 
     3. Gloria 
     4. I Still Haven't Found What I'm Looking For 
     5. MLK 
     6. One Tree Hill 
     7. God Part II 
     8. Desire 
     9. All Along the Watchtower 
    10. All I Want Is You 
    11. People Get Ready 
    12. Bad 

Disc 2: 
     1. Van Diemen's Land 
     2. New Year's Day 
     3. Pride (In the Name Of Love) 
     4. Angel Of Harlem 
     5. When Love Comes To Town 
     6. Love Rescue Me 
     7. Bullet the Blue Sky 
     8. Running To Stand Still 
     9. With Or Without You 

Source:
     November 4, 1989. Christchurch, New Zealand. Lancaster Park.

Sound Quality:
     Excellent audience.

Comments (by Justin Cook jmcook1@mediaone.net):
     This show was originally recorded on cassette and then transferred
     to CDR.  Therefore, as can be expected with any recorded that is
     not released by a "professional" bootleg label, there are a few
     imperfections.  However, the sound quality on this bootleg is
     excellent.  The music on this recording is clearer than on many of
     the "professional" bootlegs that I own.  Crowd noise is minimal
     throughout the concert, with only a few voices being audible
     between songs.  I highly recommend acquiring this bootleg from
     the first leg of the Lovetown tour.