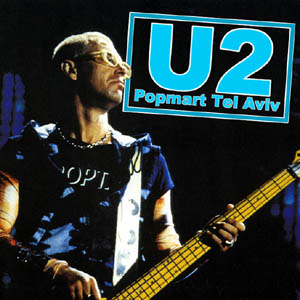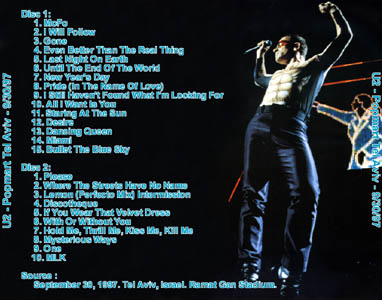 POPMART TEL AVIV

Disc 1:
     1. MoFo
     2. I Will Follow
     3. Gone
     4. Even Better Than The Real Thing
     5. Last Night On Earth
     6. Until The End Of The World
     7. New Year's Day
     8. Pride (In The Name Of Love)
     9. I Still Haven't Found What I'm Looking For
    10. All I Want Is You
    11. Staring At The Sun
    12. Desire
    13. Dancing Queen
    14. Miami
    15. Bullet The Blue Sky

Disc 2:
     1. Please
     2. Where The Streets Have No Name
     3. Lemon (Perfecto Mix) Intermission
     4. Discotheque
     5. If You Wear That Velvet Dress
     6. With Or Without You
     7. Hold Me, Thrill Me, Kiss Me, Kill Me
     8. Mysterious Ways
     9. One
    10. MLK

Source :
     September 30, 1997. Tel Aviv, Israel. Ramat Gan Stadium.

Sound Quality :
     Excellent soundboard.

Comments:
     This is the Tel Aviv show that was broadcast over Tel Aviv radio.
     This is an absolutely outstanding show!  There are a couple very
     minor edits between a couple tracks on the first disc but they
     are virtually unnoticable. There is also a noticable skip one
     minute into Desire.  All in all, its one of the better Popmart
     soundboard shows. A definate must have.