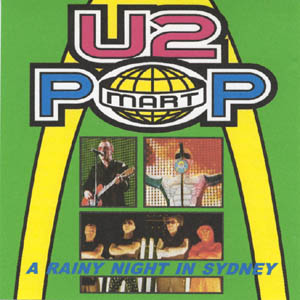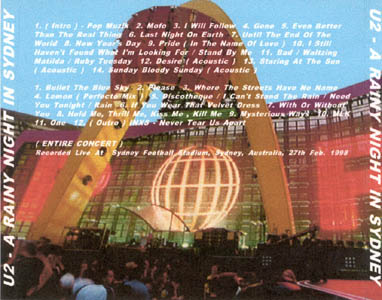 A RAINY NIGHT IN SYDNEY

Disc 1:
     1. Pop Muzik Intro 
     2. Mofo
     3. I Will Follow
     4. Gone
     5. Even Better Than The Real Thing
     6. Last Night On Earth
     7. Until The End Of The World
     8. New Years Day
     9. Pride (In The Name Of Love)
    10. I Still Haven't Found What I'm Looking For
    11. Stand By Me
    12. Bad (incl. Waltzing Matilda and Ruby Tuesday)
    13. Desire
    14. Staring At The Sun
    15. Sunday Bloody Sunday

Disc 2: 
     1. Bullet The Blue Sky (incl. I Want To Live in America)
     2. Please
     3. Where The Streets Have No Name
     4. Lemon (Perfecto Mix)
     5. Discotheque (incl. I Can't Stand The Rain, Rain, and Need You Tonight)
     6. If You Wear That Velvet Dress
     7. With Or Without You
     8. Hold Me Thrill Me Kiss Me Kill Me
     9. Mysterious Ways
    10. MLK
    11. One

Source:
     February 27, 1998.  Sydney, Australia.  Sydney Football Stadium.

Sound Quality:
     Good to very good audience.

Comments:
     The main flaw here is the bass which is really muddy and low.  Bass sound
     has no clarity, so if you adjust the equalizer to increase the bass, you
     will just get random "booms" that are quite muddy and muffled.  The
     guitar sound clarity here is awesome.  Impressive clarity in the intro to
     "Where The Streets Have No Name" and the acoustic set has near-'Popheart'
     clarity.  Drums are also excellent in detail, with nice cymbal clarity.
     However, the sound quality of the boot is not consistent as there seems
     to be some dropouts in the recording.  The muddy bass sound and the
     inconsistencies are the only "flaws" in this boot (I don't blame the
     taper, it was raining that night).  So, I'd pick Melbourne bootleg over
     this.  However, if you can find someone who can tape CD-Rs for you of
     some songs, you can never go wrong with the acoustic set of this
     Sydney bootleg (Staring At The Sun, Desire, and Sunday Bloody Sunday).
     It is simply awesome.   The title says it all.   It rained. From an
     audience DAT.  Additional comments and info needed on this bootleg.
     This is the original pressing on this label.