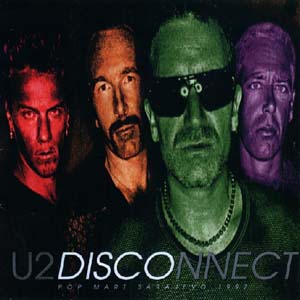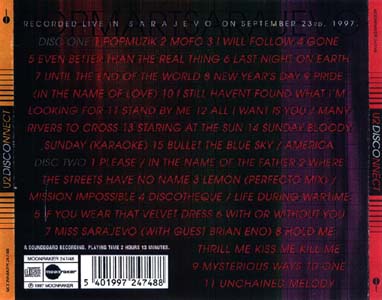 DISCONNECT

Disc 1:
     1. Mission Impossible / Pop Muzik Intro [5.09]
     2. Mofo [4.32]
     3. I Will Follow [2.46]
     4. Gone [4.42]
     5. Even Better Than The Real Thing [4.05]
     6. Last Night On Earth [6.26]
     7. Until The End Of The World [4.53]
     8. New Year's Day [4.55]
     9. Pride (In The Name Of Love) [4.59]
    10. I Still Haven't Found What I'm Looking For [4.25]
    11. Stand By Me [1.17]
    12. All I Want Is You [3.33]
    13. Staring At The Sun (acoustic) [5.43]
    14. Sunday Bloody Sunday (acoustic) [3.38]
    15. Bullet The Blue Sky [6.35]

Disc 2:
     1. Please [7.42]
     2. Where The Streets Have No Name [7.42]
     3. Lemon (Perfecto Mix) Intermission [5.02]
     4. Discotheque [7.11]
     5. If You Wear That Velvet Dress [3.40]
     6. With Or Without You [5.47]
     7. Miss Sarajevo [6.21]
     8. Hold Me, Thrill Me, Kiss Me, Kill Me [6.13]
     9. Mysterious Ways [6.11]
    10. One [5.48]
    11. Unchained Melody [2.52]
    
Source: 
     September 23, 1997.  Sarajevo, Bosnia-Herzegowina.  Kosovo Stadium.

Sound Quality: 
     Good to very good radio broadcast.

Comments:
     This bootleg is an very good broadcast recording with some low "hiss"
     during "Please."  It is an excellent concert that begins with a solid
     version of "Mofo."  It could have been one of U2's best concerts if Bono
     did not lose his voice half way through.  His voice is strong until
     "Pride (In The Name Of Love)" but then it falls apart.  If it were any
     other show the concert would have been cut short.  Although Bono's voice
     is not great, it is still an excellent concert.  The music is solid, 
     while Bono tries to sing with a softer voice.  The acoustic version of
     "Sunday Bloody Sunday" is sung by The Edge for the first time on the tour
     here.  It is simply outstanding.  During "Please," Bono compares the
     people of Bosnia to the those of Ireland "just a little."  This will most
     likely be the last live performance of "Miss Sarajevo" (on which Brian
     Eno makes an appearance).  "Mysterious Ways" begins with a chorus of
     Madonna's "Get Into The Groove."  Overall, an awesome concert.  Bono
     talks more than usual.  Just remember, Bono's voice is rough, but still
     sounds better than most other vocalists.
     This is the original pressing on this label.