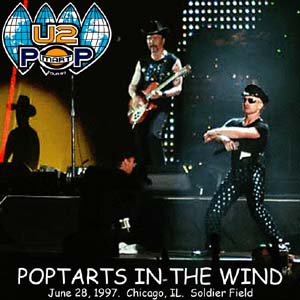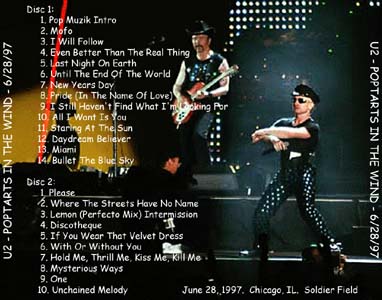 POPTARTS IN THE WIND
Manufacturer: Digital Underground
Catalog: None
Matrix: None
Barcode: None
Complete Show: No (see "Comments:")
Format: 2-CD 
Released: 1997
Disc 1: (63:22)  
Disc 2: (53:55)  
Name: Francesco Donadel (donadelg@intercity.it)

Disc 1:
     1. Pop Muzik Intro
     2. Mofo
     3. I Will Follow
     4. Even Better Than The Real Thing
     5. Last Night On Earth
     6. Until The End Of The World
     7. New Years Day
     8. Pride (In The Name Of Love)
     9. I Still Haven't Find What I'm Looking For
    10. All I Want Is You
    11. Staring At The Sun
    12. Daydream Believer
    13. Miami
    14. Bullet The Blue Sky 

Disc 2:
     1. Please
     2. Where The Streets Have No Name
     3. Lemon (Perfecto Mix) Intermission
     4. Discotheque
     5. If You Wear That Velvet Dress
     6. With Or Without You
     7. Hold Me, Thrill Me, Kiss Me, Kill Me
     8. Mysterious Ways
     9. One
    10. Unchained Melody

Source:  
     June 28, 1997.  Chicago, IL.  Soldier Field.

Sound Quality:
     Excellent audience.

Comments: 
     Great concert!  Bono has a tremendous start.  His voice is strong and
     he talks very much during the songs.  This was the first night on the
     PopMart tour in which U2 played r "New Years Day."  Unfortunately,
     somebody cut "Gone" from the original tape.  The quality of this
     bootleg is excellent, and is comparable to FOUR AT FOUR, for example.
     This is the original pressing on this label.