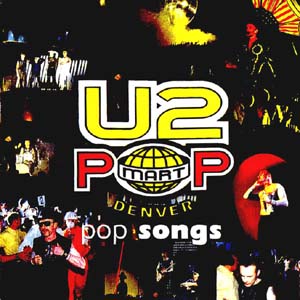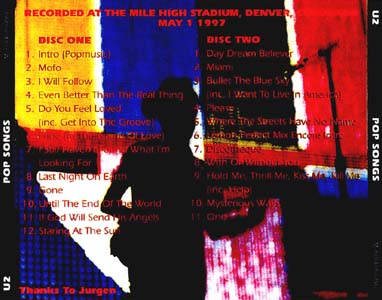 POP SONGS
Manufacturer: MOFOCD
Catalog: 3097598
Matrix: POPMART1
Barcode: None
Complete Show: Yes
Format: 1-CD
Released: 1997
Disc 1: (65:43)
Disc 2: (56:34)
From: Lance Longwell (longwell.ls@juno.com)

Disc 1:
     1. Pop Muzik Intro
     2. Mofo
     3. I Will Follow
     4. Even Better Than The Real Thing
     5. Do You Feel Loved (includes Into The Groove)
     6. Pride (In The Name Of Love)
     7. I Still Haven't Found What I'm Looking For
     8. Last Night On Earth
     9. Gone
    10. Until The End Of The World
    11. If God Will Send His Angels
    12. Staring At The Sun
    13. Daydream Believer
    14. Miami

Disc 2:
     1. Bullet The Blue Sky (includes I Want To Live In America)
     2. Please
     3. Where The Streets Have No Name
     4. Lemon (Perfecto Mix) Intermission 
     5. Discotheque
     6. With Or Without You
     7. Hold Me, Thrill Me, Kiss Me, Kill Me (includes Help)
     8. Mysterious Ways
     9. One

Source: 
     May 1, 1997.  Denver, CO.  Mile High Stadium.

Source: 
     Good audience.

Comments: 
     The photo art is of the April 25, 1997 Las Vegas show, but the recording
     is definitely from Denver.  Bono changes lyrics to songs, like "Even
     Colder Than the Real Thing."  He also says, "Where the sun won't shine
     at all," during "Miami" and "One mile high, not coming down," during
     "Gone."  Bono has a great speech during "Please" about the elections in
     England, Tony Blair, and his hope for the end of the trouble.  The CD
     liner notes says, "Thanks to Jurgen" (I'm assuming this is the person
     who recorded the show).  The audio quality is good.  There's some hooting
     and screaming, but you can hear every word during the songs and all of
     Bono's speeches.  The show itself had its weak points and the band
     wasn't at its peak due to the extreme cold.  For completists or people
     at the show, however, this is a must have.
     This is the original pressing on this label.