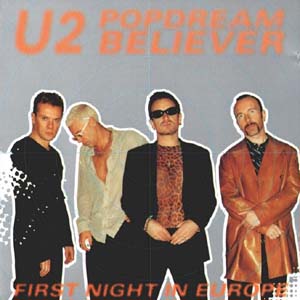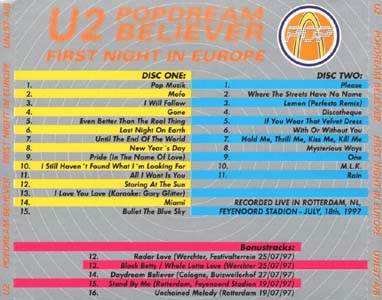 POPDREAM BELIEVER
Manufacturer: Unknown
Catalog: UNL 97-A/B
Matrix: Disc 1: UNL 97-A  
        Disc 2: UNL 97-B
Barcode: None
Complete Show: Yes
Format: 2-CD
Released: 1997
Disc 1 : (71:24)
Disc 2 : (70:10)
From: Rob de Vree (orange@concepts.nl)

Disc 1:
     1. Pop Muzik Intro. [3:46]
     2. Mofo [4:32]
     3. I Will Follow [2:51]
     4. Gone [5:12]
     5. Even Better Than The Real Thing [3:53]
     6. Last Night On Earth [6:28]
     7. Until The End Of The World [4:54]
     8. New Year's Day [4:56]
     9. Pride (In The Name Of Love) [3:39]
    10. I Still Haven't Found What I'm Looking For [6:39]
    11. All I Want Is You [3:09]
    12. Staring At The Sun [5:53]
    13. I Love You Love [3:05]
    14. Miami [6:02] 
    15. Bullet The Blue Sky [6:12]

Disc 2:
     1. Please [6:59]
     2. Where The Streets Have No Name [8:15]
     3. Lemon (Perfecto Mix) Intermission. [4:41]
     4. Discotheque [6:03]
     5. If You Wear That Velvet Dress [2:32]
     6. With Or Without You [6:51]
     7. Hold Me, Thrill Me, Kiss Me, Kill Me [5:38]
     8. Mysterious Ways [6:07]
     9. One [5:25]
    10. MLK [2:28]
    11. Rain [3:06]
    12. Radar Love [3:53]
    13. Black Betty / Whole Lotta Love [2:53]
    14. Daydream Believer [2:37]
    15. Stand By Me [1:07]
    16. Unchained Melody [1:22]

Source:
     Disc 1, Disc 2 (1-11): July 18, 1997.  Rotterdam, Holland.  Feyenoord
                            Stadium. 
     Disc 2 (12, 13): July 25, 1997.  Werchter, Belgium.  Festival Grounds.
     Disc 2 (14): July 27, 1997.  Cologne, Germany.  Butzweiler Hof. 
     Disc 2 (15, 16): July 19, 1997.  Rotterdam, Holland.  Feyenoord Stadium.

Sound Quality: 
     Very good to excellent audience.

Comments: 
     This was the first European PopMart show, but this 2-CD set covers both
     the entire Rotterdam Show and some highlights of other European PopMart
     shows.  The PopMart logo is printed on both CDs.  On the both the front
     and inside covers, there are pictures of out boys taken from the printed
     PopMart tour program (which was sold at the concerts).  Both CDs feature
     a very good audience recording and are very dynamic. The person(s) who
     recorded this show were in good position. The sound quality is much
     better than an average audience recording ("Discotheque," for example,
     sounds very clear).  Occasionally, you can hear someone talking, but it
     is not very obvious at all.  The show itself was great.  According
     to the bootlegger himself, this was the best available sound recording
     that was available at the time of pressing.  It's not soundboard quality,
     but for an audience recording, it is very good.  Those folks in Rotterdam
     don't seem to miss a U2 beat, as further confirmed by this fine release.
     This recording appears to be from a digital audience source.  There is 
     very little crowd noise on this recording (a good example of this is at
     the end of "Pride (In The Name Of Love)").  There are no annoying
     conversations going on in the foreground, as is the case on some other
     recordings.  The overall balance is very good also.  The bass element is
     more prominent than the high-end, but I think this is due more to arena
     audio acoustics than to poor recording technique.  The band's "Pop Muzik
     Intro" sounds simply "arena-pounding" and massive.  Depending on your
     stereo setup, you might need to turn the bass down a little.  It is not
     distorted, but it is very powerful.  Then again, if you don't mind
     replacing windows, let it rip.  The acoustic version of "Staring At The
     Sun," complete with delightful Edge harmonies, is just plain fantastic.
     Such delicate songs rarely succeed in "boomy" stadium settings, so either
     U2's sound engineer should get a raise, or whoever recorded this deserves
     a cigar.  My current sentiment is that perhaps both should be commended.
     The bonus tracks are also good quality.  Disc 1, Track 1 and Disc 2, 
     Tracks 12 and 14 are The Edge singing karaoke versions of songs made
     famous by Gary Glitter, Golden Earring, and The Monkeys (respectively).
     Especially notable is the cover of Golden Earring's "Radar Love" recorded
     on July 25, 1997 at the Werchter, Belgium Festival Grounds.  The 
     "driving" bass on this track is really outstanding.  And even more 
     special is the fact that Edge is on vocals.  A true treat.  Overall,
     the sound quality of this set is not quite as good as the legendary June
     11, 1992, Stockholm, Sweden Globen recording, but POPDREAM BELIEVER FIRST
     NIGHT IN EUROPE does not disappoint.  Overall, this is a great
     masterpiece!  For anyone who is looking for a good bootleg of the
     European shows, I don't think they'll get much better than this!  The
     crowd noise only comes in when necessary. The sound quality deteriorates
     only slightly somewhere on Disc 2 (I heard that the rain started to
     pour).  Bono's voice is in top shape for this concert and he has no
     problem hitting the high notes.  Highlights are "I Still Haven't Found
     What I'm Looking For," "All I Want Is You," and "Staring At The Sun."
     The bonus tracks aren't of much significance although "Daydream Believer"
     has good sound quality.  Jeroen te Rijdt and Jovi Neri contributed to
     this review.
     This is the original pressing on this label.