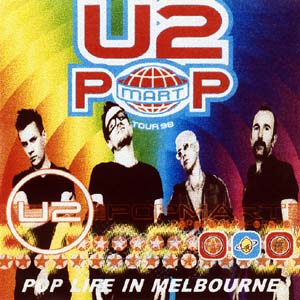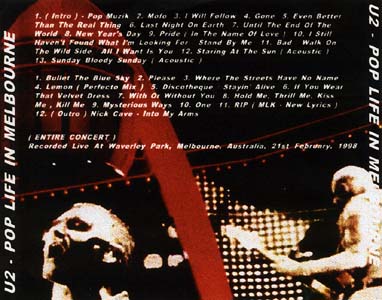 POP LIFE IN MELBOURNE
Manufacturer: Danny Best
Catalog: Unknown
Matrix: None
Barcode: Unknown
Complete Show: Yes
Format: 2-CD-R
Released: 1998
Disc 1: (66:26)
Disc 2: (65:19)
From: Al Clark (alasclar@cs.rmit.edu.au)

Disc 1:
     1. Pop Muzik Intro [5:07]
     2. Mofo [4:25]
     3. I Will Follow [3:05]
     4. Gone [4:53]
     5. Even Better Than The Real Thing [4:47]
     6. Last Night On Earth [6:18]
     7. Until The End Of The World [5:30]
     8. New Year's Day [5:01]
     9. Pride ( In The Name Of Love ) [5:15]
    10. I Still Haven't Found What I'm Looking For / Stand By Me [4:45]
    11. Bad / Walk On The Wild Side / All I Want Is You [7:16]
    12. Staring At The Sun [6:05]
    13. Sunday Bloody Sunday [3:47]

Disc 2:
     1. Bullet The Blue Sky [7:05]
     2. Please [7:26]
     3. Where The Streets Have No Name [7:27]
     4. Lemon (Perfecto Mix) Intermission [6:29]
     5. Discotheque / Stayin' Alive [5:13]
     6. If You Wear That Velvet Dress [2:54]
     7. With Or Without You [6:57]
     8. Hold Me, Thrill Me, Kiss Me, Kill Me [5:55]
     9. Mysterious Ways [6:14]
    10. One [6:09] 
    11. RIP [2:00]
    12. Into My Arms (Nick Cave) (Over The PA) Outtro [1:22]

Source:
     February 21, 1998.  Melbourne, Australia.  Waverley Park.

Sound Quality:
     Good to very good to audience.

Comments:
     The instruments are very clear, meaning you can easily distinguish one
     from the other (unlike some really "muddy" bootlegs out there) although
     there is a little lack of midrange.  The cymbals aren't exactly super
     crisp (I'm talking bootleg standards here) but are very listenable.  The
     vocals are ever-so-slightly a bit low side but maybe that's how the 
     acoustics of the stadium were that night. The sound is a bit on the flat
     and artificial side as there seems to be a lack of the audience and
     stadium atmosphere.  Crowd noise seems to be like random clapping instead
     of a real stadium audience thus making it "artificial."  Overall, this
     boot is among the upper echelon of PopMart audience boots and is
     recommended.  What sets this boot apart from the other audience PopMart
     bootlegs is the PopMart version of "Bad," with snippets of "Never Tear Us
     Apart," "Walk On The Wild Side" and "All I Want Is You." During
     "Discotheque," Bono sang snippets of the Bee Gees' "Stayin' Alive."
     This was the second Australian PopMart show.  This came from an audience
     DAT recording.  The front cover is taken from a mini-poster sold with the
     Australian 'Mofo' remix single CD.  The back cover has pictures of Bono,
     Adam, and the arch behind a tracklisting.  The inside covers feature scans
     of a newspaper review of the concert, a newspaper advertisement for the
     show, a concert ticket and a "working personnel" ID pass.  Some audience
     noise is prominent between songs, but does not distract from the music.
     "Sunday Bloody Sunday" is the acoustic version sung by The Edge. 
     This is the original pressing on this label.