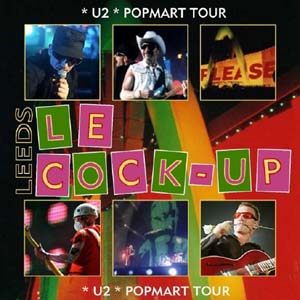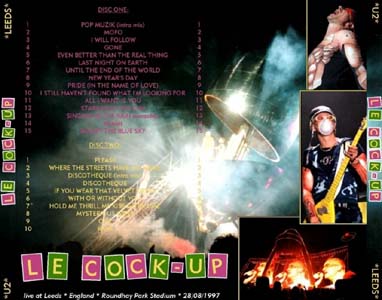 LE COCK UP

Disc 1:
     1. French Mis-Introduction
     2. Popmusik
     3. MoFo
     4. I Will Follow
     5. Gone
     6. Even Better Than The Real Thing
     7. Last Night On Earth
     8. Until The End Of The World
     9. New Year's Day
    10. Pride (In The Name Of Love)
    11. I Still Haven't Found What I'm Looking For
    12. All I Want Is You
    13. Staring At The Sun
    14. Singing In The Rain

Disc 2: 
     1. Miami
     2. Bullet The Blue Sky
     3. Please
     4. Where The Streets Have No Name
     5. Lemon
     6. Discotheque
     7. If You Wear That Velvet Dress
     8. With Or Without You
     9. Hold Me, Thrill Me, Kiss Me, Kill Me
    10. One
    11. Rain

Source: 
     August 28, 1997. Roundhay Park, Leeds.

Sound Quality: 
     Excellent soundboard.

Comments:
     In December 1997 a soundboard recording of Leeds Popmart
     was broadcast on French radio in error. They meant to
     broadcast the Parisian Popmart.  This is a recording of
     that infamous broadcast.