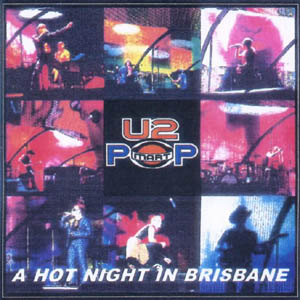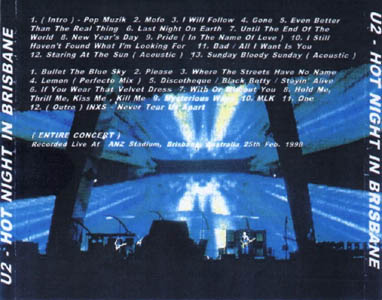 A HOT NIGHT IN BRISBANE
Manufacturer: Danny Best
Catalog: Unknown
Matrix: None
Barcode: Unknown
Complete Show: Yes
Format: 2-CD-R
Released: 1998

Disc 1:
     1. Pop Muzik Intro
     2. Mofo
     3. I Will Follow
     4. Gone
     5. Even Better Than The Real Thing
     6. Last Night On Earth
     7. Until The End Of The World
     8. New Years Day
     9. Pride (In The Name Of Love)
    10. I Still Haven't Found What I'm Looking For
    11. Bad / All I Want Is You
    12. Staring At The Sun
    13. Sunday Bloody Sunday 

Disc 2:
     1. Bullet The Blue Sky (incl. I Want To Live In America)
     2. Please
     3. Where The Streets Have No Name
     4. Lemon (Perfecto Mix) Intermission
     5. Discotheque/Black Betty/Stayin' Alive
     6. If You Wear That Velvet Dress
     7. With Or Without You
     8. Hold Me Thrill Me Kiss Me Kill Me
     9. Mysterious Ways
    10. MLK
    11. One
    12. Never Tear Us Apart (INXS, over the PA)
  
Source:
     February 25, 1998.  Brisbane, Australia.  ANZ Stadium.

Sound Quality:
     Good audience.