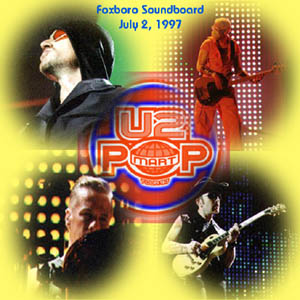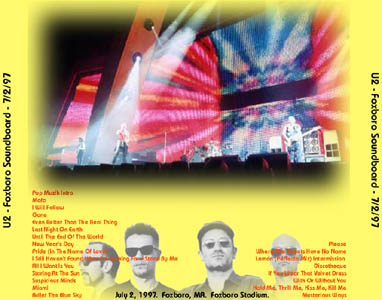 FOXBORO SOUNDBOARD

Disc 1:
     1. Pop Muzik Intro
     2. Mofo
     3. I Will Follow
     4. Gone
     5. Even Better Than The Real Thing
     6. Last Night On Earth
     7. Until The End Of The World
     8. New Year's Day
     9. Pride (In The Name Of Love)
    10. I Still Haven't Found What I'm Looking For / Stand By Me
    11. All I Want Is You
    12. Staring At The Sun
    13. Suspicious Minds
    14. Miami
    15. Bullet The Blue Sky

Disc 2:
     1. Please
     2. Where The Streets Have No Name
     3. Lemon (Perfecto Mix) Intermission 
     4. Discotheque
     5. If You Wear That Velvet Dress
     6. With Or Without You
     7. Hold Me, Thrill Me, Kiss Me, Kill Me
     8. Mysterious Ways

Source:
     July 2, 1997.  Foxboro, MA.  Foxboro Stadium.

Sound Quality:
     Good soundboard.

Comments:
     For a soundboard show, this recording is plagued with problems.
     There are numerous fade in and fade outs throughout the show.
     There also seems to be a slight hiss and the bass sounds a little
     heavy at times.  Lemon is faded out very early and One is totally
     missing.