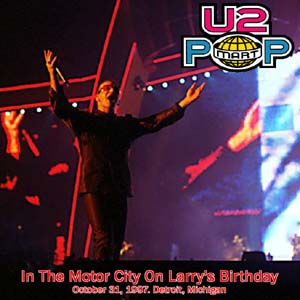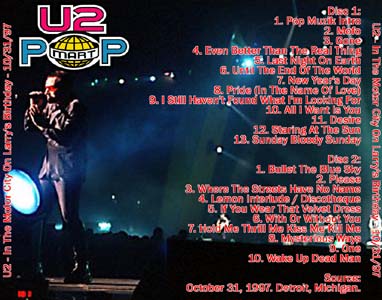 IN THE MOTOR CITY ON LARRY'S BIRTHDAY

Disc 1:
     1. Pop Muzik Intro
     2. Mofo
     3. Gone
     4. Even Better Than The Real Thing
     5. Last Night On Earth
     6. Until The End Of The World
     7. New Year's Day
     8. Pride (In The Name Of Love)
     9. I Still Haven't Found What I'm Looking For
    10. All I Want Is You
    11. Desire
    12. Staring At The Sun
    13. Sunday Bloody Sunday

Disc 2:
     1. Bullet The Blue Sky
     2. Please
     3. Where The Streets Have No Name
     4. Lemon Interlude / Discotheque
     5. If You Wear That Velvet Dress
     6. With Or Without You
     7. Hold Me Thrill Me Kiss Me Kill Me
     8. Mysterious Ways
     9. One
    10. Wake Up Dead Man

Source:
     October 31, 1997. Detroit, Michigan.

Sound Quality:
     Good audience.

Comments:
     A rocking good Halloween show that was also Larry Mullen's birthday. 
     As the band descended from the Lemon, Bono led the crowd in a rousing 
     rendition of "Happy Birthday." Other highlights included Bono wearing 
     a pair of "Fly Shades" and singing a verse of the song after a fan threw 
     them onstage and Bono inviting 10-15 audience members dressed up for 
     Halloween during "Mysterious Ways."