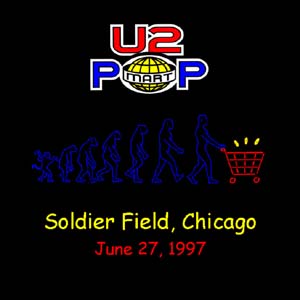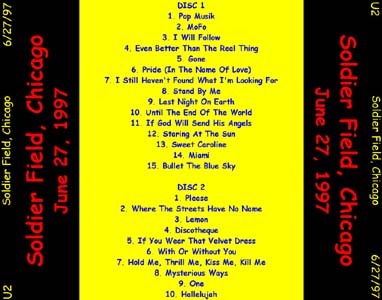 POPMART CHICAGO
Manufacturer: John Hlavaty
Catalog: Unknown
Matrix: None
Barcode: None
Complete Show: Yes
Format: 2-CD-R
Released: 1998
Disc 1: (  :  )
Disc 2: (  :  )
From: Sara Zettervall

Disc 1:
     1. POP Muzik Intro
     2. Mofo 
     3. I Will Follow 
     4. Even Better Than the Real Thing 
     5. Gone 
     6. Pride (In the Name of Love) 
     7. I Still Haven't Found What I'm Looking For 
     8. Stand By Me 
     9. Last Night on Earth 
    10. Until the End of the World 
    11. If God Will Send His Angels 
    12. Staring at the Sun 
    13. Sweet Caroline 
    14. Miami 
    15. Bullet the Blue Sky 

Disc 2:
     1. Please 
     2. Where the Streets Have No Name 
     3. Lemon (Perfecto Mix) Intermission 
     4. Discotheque 
     5. If You Wear That Velvet Dress 
     6. With or Without You 
     7. Hold Me, Thrill Me, Kiss Me, Kill Me 
     8. Mysterious Ways 
     9. One
    10. Hallelujah 

Source:
     Disc 1, Disc 2 (1-10): June 27th, 1997.  Chicago, IL.  Soldier Field.

Sound Quality:
     Good to very good audience.

Comments:
     A few songs, such as "Hallelujah," "Stand By Me," and "All I Want
     Is You" are shortened versions of the originals (meaning, U2 did not
     perform the entire song as was originally recorded in the studio). 
     The back of CD case reads "These concerts were originally recorded on
     tape.  The taped shows were re-recorded onto a computer as a .wav file.
     The .wav file was divided to create individual tracks.  Each track was
     filtered and amplified to achieve the best possible sound.  The .wav
     files were then recorded onto these CD-R discs using the "Disc at Once"
     mode. - JJH"  These CD's are probably the best available of any of the
     Chicago shows.  The high end sound is very crisp and clear (sometimes a
     little too cutting), and the audience doesn't get too overwhelming.  The
     only real problem is that there is almost no bass in the mix, which is
     why I am a little reluctant about giving these a "very good" rating.  If
     you don't care much about bass, it won't bother you, but if you like to
     crank up the bass, this recording might not be for you.
     This is the original pressing on this label.