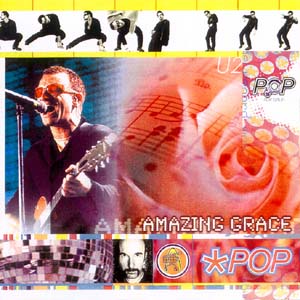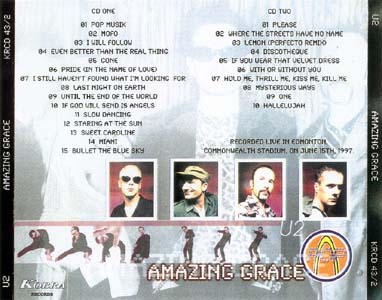 AMAZING GRACE

Disc 1: 
     1. Pop Muzik 
     2. Mofo 
     3. I Will Follow 
     4. Even Better Than the Real Thing 
     5. Gone 
     6. Pride (In the Name Of Love) 
     7. I Still Haven't Found What I'm Looking For 
     8. Last Night On Earth 
     9. Until the End Of the World 
    10. If God Will Send His Angels 
    11. Slow Dancing
    12. Staring At the Sun 
    13. Sweet Caroline 
    14. Miami 
    15. Bullet the Blue Sky 

Disc 2: 
     1. Please 
     2. Where the Streets Have No Name 
     3. Lemon 
     4. Discotheque 
     5. If You Wear That Velvet Dress 
     6. With Or Without You 
     7. Hold Me, Thrill Me, Kiss Me, Kill Me 
     8. Mysterious Ways 
     9. One
    10. Halleluja

Source:
     June 15, 1997. Edmonton, Alberta, Canada. Commenwealth Stadium.

Sound Quality:
     Excellent soundboard.

Comments:
     Included in this show is the only time U2 played Slow Dancing
     during the Popmart tour.  A must have for any collector.