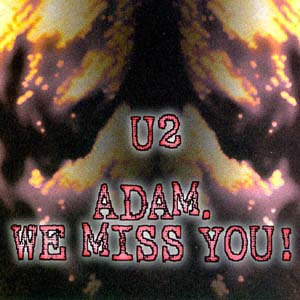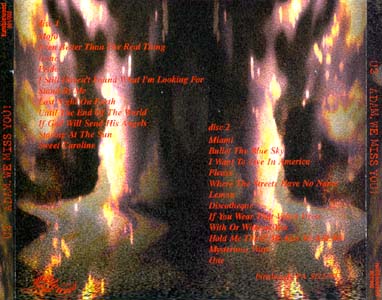 ADAM WE MISS YOU!
Manufacturer: Tumbleweed
Catalog: Tumbleweed 001/002
Matrix: Disc 1: TUMBLEWEED 001
        Disc 2: TUMBLEWEED 002
Barcode: Unknown
Complete show: Yes
Format: 2CD
Released: 1997
Disc 1: (50:36)
Disc 2: (63:55)
From: Dan Eliot (deliot@earthlink.net)
From: L!MR

Disc 1: 
     1. Mofo
     2. I Will Follow
     3. Even Better Than The Real Thing
     4. Gone
     5. Pride (In The Name Of Love)
     6. I Still Haven't Found What I'm Looking For
     7. Stand By Me
     8. Last Night On Earth
     9. Until The End Of The World
    10. If God Will Send His Angels
    11. Staring At The Sun
    12. Sweet Caroline

Disc 2:
     1. Maimi
     2. Bullet The Blue Sky (incl. I Want To Live In America)
     3. Please
     4. Where The Streets Have No Name
     5. Lemon (Perfecto Mix) Intermission
     6. Discotheque
     7. If You Wear That Velvet Dress
     8. With Or Without You
     9. Hold Me, Thrill Me, Kiss Me, Kill Me
    10. Mysterious Ways
    11. One

Source:
     May 22, 1997.  Pittsburgh, PA.  Three Rivers Stadium.

Sound Quality:
     Very good audience recording. See below.

Comments:
     Color cover.  Track 2 is not listed on the cover.  There is too much echo
     and occasional intrusions by the people around the taper.  This bootleg
     comes housed in a bland double (thick) jewel case.  A whole lot better of
     a performance than the Vegas show, which was the only concert I'd
     listened to before this.  However, the quality is a bit lacking,
     especially when the Sarajevo broadcast is now easily obtainable.  Worth
     picking up only by the dedicated (hard core) fan.  Pretty good quality
     overall.   According to the guy who sold this to me (usually quite
     reliable) there won't be too many of this particular boot released in the
     US.  Most will be sold in Japan where it was made.  The guy who sold it
     to me said there were only 100 in the US and he had 80 of them, so I
     doubt there will be that many of this particular boot sold here in
     America.  He also said it was limited pressing of 500 CDs, but we all
     know how that can change.   He's a very reliable source, so I have no
     reason to doubt him.  Of course, it could always be reprinted on another
     label.
     This is the original pressing on this label.