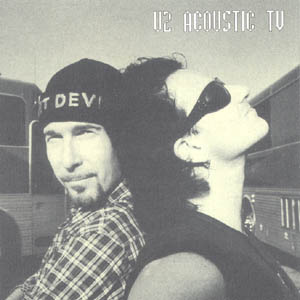 ACOUSTIC TV
Manufacturer: Teddy Bear Records
Catalog: TB 13
Matrix: TB 13 PHC
Barcode: None
(66:02)
From: J. Gareth Williams (jgwillia@novice.uwaterloo.ca)

     1. Angel Of Harlem
     2. Dancing Queen
     3. Satellite Of Love
     4. My Girl
     5. All I Want Is You
     6. Whiskey In The Jar
     7. Dear Prudence
     8. I Still Haven't Found What I'm Looking For
     9. Stand By Me
    10. Slow Dancing
    11. New York, New York
    12. So Cruel
    13. Wild Rover
    14. Knockin' On Heaven's Door
    15. Redemption Song
    16. Who's Gonna Ride Your Wild Horses
    17. Rain
    18. Van Diemen's Land
    19. Party Girl
    20. Dirty Old Town
    21. Help
    22. When Love Comes To Town
    23. Stay (Faraway, So Close!)
    24. Unchained Melody
    25. I Can't Help Falling In Love 

Sources :
     (1-3): June 11, 1992.  Stockholm, Sweden.  Globen.
     (4-7, 9-14): Unknown.
     (8): August 27, 1992.  Montreal, Canada.  Olympic Stadium.
     (15): October 14, 1992.  Houston, TX.  Houston Astrodome.
     (21-25): August 28,1993.  Dublin, Ireland.  Royal Dublin Society
              Showgrounds.
     Other dates to be confirmed.

Sound Quality :
     Varies a great deal between songs from excellent soundboard to
     barely-listenable audience.

Comments :
     An interesting collection of acoustic performances from various
     locations throughout the ZOO TV and Zooropa Tours.  Track 2 performed 
     with half of ABBA.  Track 8 is with Daniel Lanois.  Track 14 is 
     performed with Axl Rose, although it's a bad recording of an even 
     worse performance.
     This is the original pressing on this label.