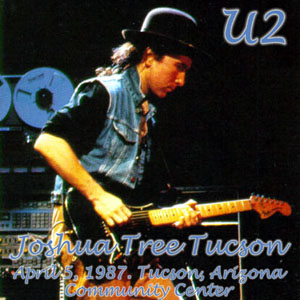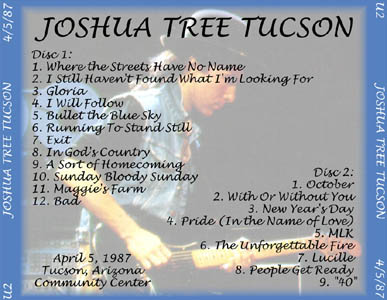 JOSHUA TREE TUCSON

Disc 1: 
     1. Where the Streets Have No Name 
     2. I Still Haven't Found What I'm Looking For 
     3. Gloria 
     4. I Will Follow 
     5. Bullet the Blue Sky 
     6. Running To Stand Still 
     7. Exit 
     8. In God's Country 
     9. A Sort of Homecoming 
    10. Sunday Bloody Sunday 
    11. Maggie's Farm 
    12. Bad 

Disc 2: 
     1. October 
     2. With Or Without You 
     3. New Year's Day 
     4. Pride (In the Name of Love) 
     5. MLK 
     6. The Unforgettable Fire 
     7. Lucille 
     8. People Get Ready 
     9. "40"
    
Source: 
     April 5, 1987. Tucson, Arizona. Community Center.

Sound Quality: 
     Good audience.

Comments:
     There are some major problems with the recording during the
     intro to Where The Streets Have No Name where the source
     tape almost seems to get turned over.