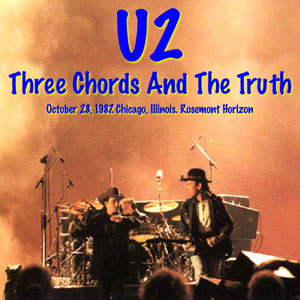 THREE CHORDS AND THE TRUTH

Disc 1: 
     1. Where the Streets Have No Name 
     2. I Will Follow 
     3. Trip Through Your Wires 
     4. I Still Haven't Found What I'm Looking For 
     5. MLK 
     6. The Unforgettable Fire 
     7. Exit 
     8. In God's Country 
     9. Southern Man 
    10. Sunday Bloody Sunday 

Disc 2: 
     1. Help 
     2. Bad 
     3. October 
     4. New Year's Day 
     5. Pride (In the Name of Love) 
     6. Star Spangled Banner/Bullet the Blue Sky 
     7. Running To Stand Still 
     8. With Or Without You 
     9. 40 
  
Source:
     October 28, 1987. Chicago, Illinois. Rosemont Horizon.

Sound Quality:
     Very good audience.

Comments:
     This is an excellent audience recording of an outstanding Joshua Tree
     concert.  The sound is crisp and clear and the audience is barely audible.
     There is a slight hiss in the background throughout, but it is quite soft
     and does not take away from the music.  Other than a very small skip at
     the beginning of "Sunday Bloody Sunday", this recording is virtually flawless.