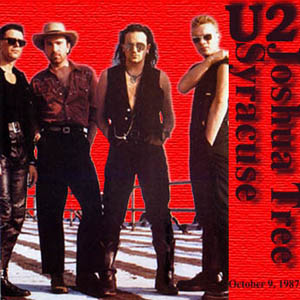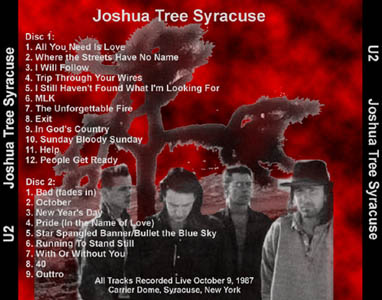 JOSHUA TREE SYRACUSE

Disc 1: 
     1. All You Need Is Love 
     2. Where the Streets Have No Name 
     3. I Will Follow 
     4. Trip Through Your Wires 
     5. I Still Haven't Found What I'm Looking For 
     6. MLK 
     7. The Unforgettable Fire 
     8. Exit 
     9. In God's Country 
    10. Sunday Bloody Sunday 
    11. Help 
    12. People Get Ready 

Disc 2: 
     1. Bad (fades in) 
     2. October 
     3. New Year's Day 
     4. Pride (In the Name of Love) 
     5. Star Spangled Banner/Bullet the Blue Sky 
     6. Running To Stand Still 
     7. With Or Without You 
     8. 40 
     9. Outtro 

Source:
     October 9, 1987. Syracuse, New York.

Sound Quality:
     Excellent soundboard.

Comments (by Justin Cook jmcook1@mediaone.net):
     This bootleg was recorded from video and then run through Cool Edit 96.
     The video was pro-shot and the audio is straight from the soundboard.
     The sound is phenomenal.  If you've heard "DC" (16 August 1992), then
     you know what this bootleg sounds like, as both were recorded from a mono
     feed.  However, I believe that this bootleg sounds even better than "DC".
     In my opinion, it is certainly the best recording from the Joshua Tree tour
     that I have in my collection.  Don't pass this one up -- how often do you
     come across true soundboard recordings from this tour?   There are a few
     things worth noting.  The first few seconds of "Bad" are missing since they
     are not included on the video from which this bootleg was recorded.  Also, 
     Disc 1, Track 1 is the Beetles being played over the PA.