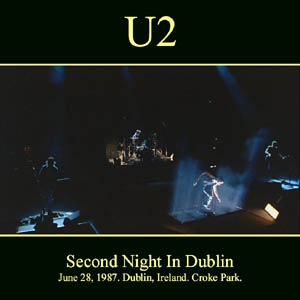 SECOND NIGHT IN DUBLIN

Disc 1: 
     1. Stand By Me 
     2. C'Mon Everybody 
     3. I Will Follow 
     4. Trip Through Your Wires 
     5. MLK
     6. The Unforgettable Fire 
     7. Sunday Bloody Sunday 
     8. Exit 
     9. In God's Country 
    10. Help 
    11. Bad 
    12. Walk On The Wild Side  
    13. October 
    14. New Year's Day 
    15. Pride (In the Name of Love) 

Disc 2: 
     1. Bullet the Blue Sky 
     2. Running To Stand Still 
     3. With Or Without You / Love Will Tear Us Apart 
     4. "40" 
  
Source:
     June 28, 1987. Dublin, Ireland. Croke Park.

Sound Quality:
     Very good audience.

Comments:
     There is some warping at the beginning of Stand By Me but it cleans up
     about halfway through the track and isn't a problem throughout the rest
     of the show.