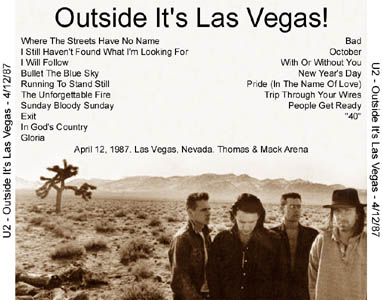 OUTSIDE IT'S LAS VEGAS!

Disc 1: 
     1. Where The Streets Have No Name
     2. I Still Haven't Found What I'm Looking For
     3. I Will Follow
     4. Bullet The Blue Sky
     5. Running To Stand Still
     6. The Unforgettable Fire
     7. Sunday Bloody Sunday
     8. Exit
     9. In God's Country
    10. Gloria

Disc 2: 
     1. Bad
     2. October
     3. With Or Without You
     4. New Year's Day
     5. Pride (In The Name Of Love)
     6. Trip Through Your Wires
     7. People Get Ready
     8. "40"

Source: 
     April 12, 1987. Las Vegas, Nevada. Thomas & Mack Arena.

Sound Quality: 
     Good audience.

Comments:
     MLK is missing after Running To Stand Still and WTSHNN is missing
     the intro.  "40" fades out after a little over 3:30.  Overall the
     sound quality is very good and Bono can be heard quite clearly.
     There is a little distortion in a few portions of the show but
     it doesn't detract from the listenability of the entire show.