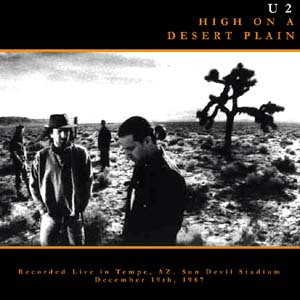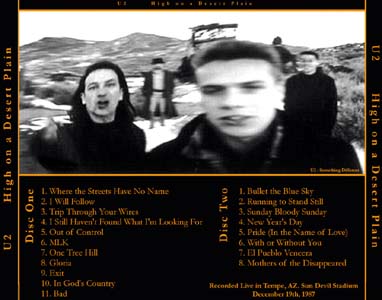 HIGH ON A DESERT PLAIN

Disc 1: 
     1. Where the Streets Have No Name 
     2. I Will Follow 
     3. Trip Through Your Wires 
     4. I Still Haven't Found What I'm Looking For 
     5. Out of Control 
     6. MLK 
     7. One Tree Hill 
     8. Gloria 
     9. Exit 
    10. In God's Country 
    11. Bad 

Disc 2: 
     1. Star Spangled Banner 
     2. Bullet the Blue Sky 
     3. Running To Stand Still 
     4. Sunday Bloody Sunday 
     5. New Year's Day 
     6. Pride (In the Name of Love) 
     7. With Or Without You 
     8. Mothers of the Disappeared 
  
Source: 
     December 19, 1987. Tempe, Arizona. Sun Devil Stadium.

Sound Quality: 
     Excellent Soundboard.

Comments:
     You're not going to find a better recording or performance of a Joshua
     Tree show. This show is all around outstanding! Although it is missing
     People Get Ready and "40", this is still the one MUST have for any
     U2 collector.