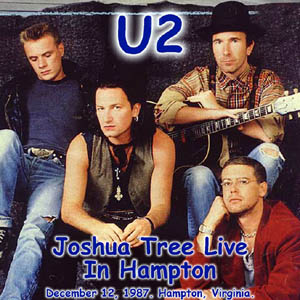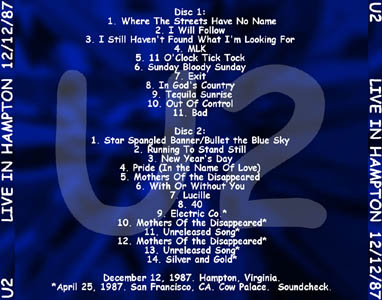 JOSHUA TREE HAMPTON

Disc 1: 
     1. Where The Streets Have No Name
     2. I Will Follow 
     3. I Still Haven't Found What I'm Looking For 
     4. MLK 
     5. 11 O'Clock Tick Tock 
     6. Sunday Bloody Sunday 
     7. Exit 
     8. In God's Country 
     9. Tequila Sunrise (Larry on vocals) 
    10. Out Of Control 
    11. Bad 

Disc 2: 
     1. Star Spangled Banner/Bullet the Blue Sky 
     2. Running To Stand Still 
     3. New Year's Day 
     4. Pride (In the Name Of Love) 
     5. Mothers Of the Disappeared 
     6. With Or Without You 
     7. Lucille 
     8. 40 
     9. Electric Co. 
    10. Mothers Of the Disappeared 
    11. Unreleased Song 
    12. Mothers Of the Disappeared 
    13. Unreleased Song 
    14. Silver and Gold 

Source:
     Disc 1, 2 (1-8): December 12, 1987. Hampton, Virginia.
     Disc 2 (9-14): April 25, 1987. San Francisco, CA. Cow Palace.  Soundcheck.

Sound Quality:
     Excellent audience.

Comments (by Justin Cook jmcook1@mediaone.net):
     The sound on this bootleg is excellent.  Unfortunately, there are a few
     problems.  "Out Of Control" suffers from constant ticking that was the
     result of poor ripping/recording when the show was burned onto a CD-R.
     Thankfully, that problem is limited to only the one track (Disc 1, Track 10).
     There is a pretty decent skip at the 2:16 mark of "Bad".   Also, there are
     several rough transitions between songs.  It seems that the person recording
     the show stopped the tape between songs on numerous occasions.  Even with
     these flaws, I would still highly recommend this bootleg.  It's hard to come
     by a Joshua Tree bootleg with sound quality like this one -- and this is a
     non-FLOM bootleg as well, so you know it will make great trade bait!