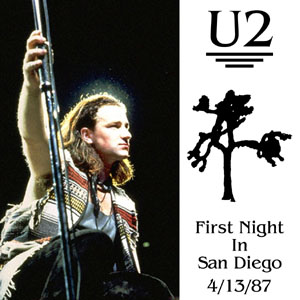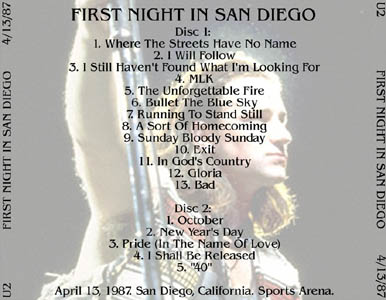 FIRST NIGHT IN SAN DIEGO

Disc 1: 
     1. Where The Streets Have No Name
     2. I Will Follow
     3. I Still Haven't Found What I'm Looking For
     4. MLK
     5. The Unforgettable Fire
     6. Bullet The Blue Sky
     7. Running To Stand Still
     8. A Sort Of Homecoming
     9. Sunday Bloody Sunday
    10. Exit
    11. In God's Country
    12. Gloria
    13. Bad

Disc 2: 
     1. October
     2. New Year's Day
     3. Pride (In The Name Of Love)
     4. I Shall Be Released
     5. "40"

Source: 
     April 13, 1987. San Diego, California. Sports Arena.

Sound Quality: 
     Good audience.

Comments:
     The sound quality really drops off starting with In God's
     Country. It sounds like it was taken from another source.
     With Or Without You is missing from the encore.