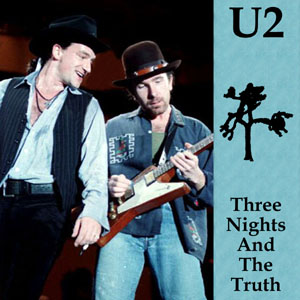 THREE NIGHTS AND THE TRUTH

Disc 1: 
     1. Where the Streets Have No Name 
     2. I Will Follow 
     3. Bullet the Blue Sky 
     4. Running To Stand Still 
     5. Bad 
     6. 40 
     7. People Get Ready 
     8. Stand By Me 

Disc 2: 
     1. MLK 
     2. The Unforgettable Fire 
     3. Sunday Bloody Sunday 
     4. Exit 
     5. New Year's Day 
     6. Pride (In the Name of Love) 
     7. I Still Haven't Found What I'm Looking For 
     8. Spanish Eyes 
     9. 40 

Source: 
     Disc 1 (1-6): September 18, 1987.  Boston, MA.  Boston Garden. 
     Disc 1 (7-8): September 25, 1987.  Philadelphia, PA.  JFK Stadium. 
     Disc 2: September 28, 1987. New York, NY.  Madison Square Garden. 

Sound Quality: 
     Good soundboard.

Comments:
     The sound on this boot seems to vary from good to very good soundboard.
     It sounds like it all was transferred from a medium generation video.
     There are a few technical problems including some minor skipping and
     some early fade-outs and fade-ins.  All-in-all its a very good sounding
     boot with a appearance from Bruce Springsteen during Stand By Me and
     The New Voices of Freedom during I Still Haven't Found.