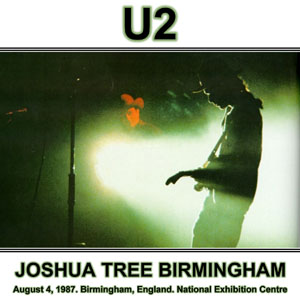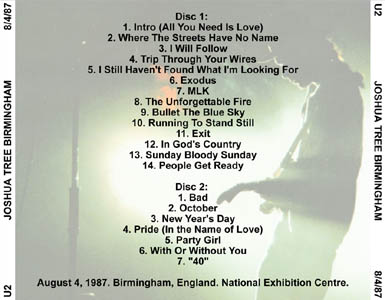 JOSHUA TREE BIRMINGHAM

Disc 1: 
     1. Intro (All You Need Is Love)
     2. Where The Streets Have No Name
     3. I Will Follow
     4. Trip Through Your Wires
     5. I Still Haven't Found What I'm Looking For
     6. Exodus
     7. MLK
     8. The Unforgettable Fire
     9. Bullet The Blue Sky
    10. Running To Stand Still
    11. Exit
    12. In God's Country
    13. Sunday Bloody Sunday
    14. People Get Ready

Disc 2: 
     1. Bad 
     2. October 
     3. New Year's Day 
     4. Pride (In the Name of Love)
     5. Party Girl
     6. With Or Without You
     7. "40"
  
Source:
     August 4, 1987. Birmingham, England. National Exhibition Centre.

Sound Quality:
     Good audience.

Comments:
     The sound is a little muffled at times and there is a skip at the
     beginning of In God's Country.  A few times during the show the
     sound sounds a little "warped" almost like this was transferred
     from cassette.  It only happens a few times and doesn't detract from
     the listenability of the show.