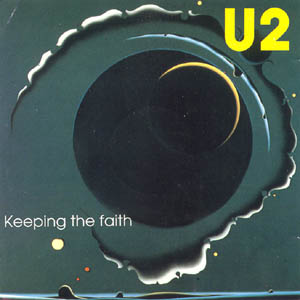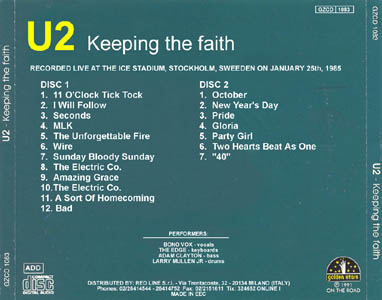 KEEPING THE FAITH
Manufacturer: Golden Stars

Disc 1:
     1. 11 O'Clock Tick Tock
     2. I Will Follow
     3. Seconds
     4. MLK
     5. The Unforgettable Fire
     6. Wire
     7. Sunday Bloody Sunday
     8. Electric Co.
     9. Amazing Grace
    10. Electric Co.
    11. A Sort Of Homecoming
    12. Bad

Disc 2:
     1. October
     2. New Year's Day
     3. Pride (In The Name Of Love)
     4. Gloria
     5. Party Girl
     6. Two Hearts Beat As One
     7. "40"

Source:
     January 25, 1985.  Stockholm, Sweden.  Ice Stadium.

Sound Quality:
     Very good to excellent from a soundboard.
     [This is probably an audience recording.]

Comments:
     The audience noise is at a pretty low level in the background except
     when they are chanting and singing with Bono.  However, the high end
     is missing and at times Bono sounds like he's singing through a
     cardboard tube.  There is a noticeable edit about halfway through "Bad",
     possibly from switching tapes.