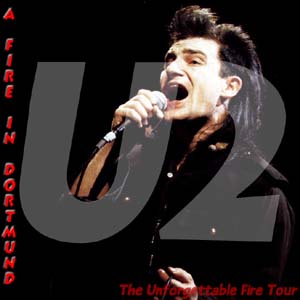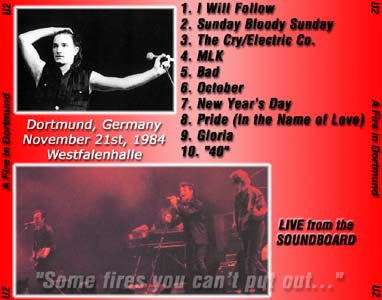 A FIRE IN DORTMUND

     1. I Will Follow
     2. Sunday Bloody Sunday
     3. Cry / The Electric Co.
     4. MLK
     5. Bad
     6. October
     7. New Year's Day
     8. Pride (In the Name of Love)
     9. Gloria
    10. "40"

Source:
     November 21, 1984. Dortmund, Germany. Westfalenhalle.

Sound Quality:
     Excellent soundboard.

Comments:
     Although this isn't the complete show (11 O'Clock Tick Tock,
     A Sort Of Homecoming, and The Unforgettable Fire are missing)
     this is still one of the best Unforgettable Fire shows you are
     going to find.  This is a definate must have show.